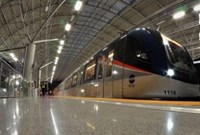 Metro de Panamá announced that three companies presented their technical and economic proposals for the Line 2 Branch Project which will connect the Superior Technical Institute of the East (ITSE) and Tocumen International Airport (AIT).
The three bidders are the Consorcio Línea Aeropuerto (OHL-MOTA-ENGIL), Consorcio Línea 2 Ramal and Acciona Construcción.
The bidders presented their technical and economic proposals which must have 510 and 490 points respectively. The winner of the tender will be the bidder which will have the highest total score, formed by the technical and economic points. The technical aspects will be analysed by the Evaluation Commission, which has a period of 30 days to deliver the report, as well as the possibility of requesting an extension of up to 20 additional working days.
The winner will have 28 months to complete the 2-km Line 2 extension to the airport. The contract includes design, civil works, auxiliary line installations and stations and the integration system with the existing metro network. The integrating rail system will be contracted separately by Metro de Panamá to ensure they are fully compatible with the Line 2 systems.
About Railway Pro

The Railway Pro Communication Platform is the most effective communication tool of the railway business environment, tailored for the specific needs of railway professionals and investors in order to provide them with the latest business opportunities existing on the market. The emphasis is put on the international railway commercial sector, our dedicated readers having access information related to the latest technologies available, ongoing and future projects as well as being a strategic source of knowledge for companies interested in identifying business associates.