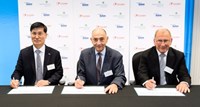 A ceremonial signing took place between contracting partners, Greater Wellington Regional Council, Transdev and Hyundai Rotem for the operation of the Wellington Metro Rail contract.
The event marks the start of a partnering relationship between the parties to operate, maintain and grow the Wellington rail network. The contract is for a term of 9 years and may be extended for a further 6 years (in 3 year increments) subject to achieving performance targets.
The event was attended by key dignitaries including the French Ambassador to NZ, Madame Florence Jeanblanc-Risler, Transdev Group Chairman and CEO, Mr Jean-Marc Janaillac and regional CEO Richard Dujardin, along with Transdev Australasia's Acting CEO, Mr Peter Lodge and local Acting Managing Director in Wellington, Mr Alan Bannister.
'We are very proud to have been entrusted by Greater Wellington Regional Council that will see us harness our global experience with the local talent that already exists in the network. It is with great delight that we embark on this long term partnership with Greater Wellington Regional Council.' Mr Janaillac said
The signing of the contract marks the 14th current major public transport contract in the region for Transdev Australasia. Mr Richard Dujardin said, 'we are so proud to further grow our presence in the New Zealand passenger rail market, with the Wellington contract being in addition to our Auckland rail contract that we have successfully operated since 2004.
Peter Lodge, Acting CEO of Transdev Australasia said 'Transdev's approach to this contract is to build on the existing strong foundations that already exist in Wellington, to grow patronage on the network. We will do this in partnership with Greater Wellington Regional Council and our maintenance partner Hyundai Rotem.'
Acting Transdev Managing Director (Wellington), Alan Bannister said, 'our team is working extremely hard towards the service delivery start date to ensure a seamless transition with no disruption to staff and customers. We are already working closely with KiwiRail, GWRC and the RMTU to help facilitate this. KiwiRail have worked hard to establish a rail network that is in a good position in terms of performance and high customer satisfaction ratings. We are looking forward to building on these successes to drive even greater customer satisfaction, punctuality, reliability, and patronage that contributes to the region's prosperity and growth' he said.
About Transdev
A subsidiary of Caisse des Dépôts and Veolia, Transdev is a world leader in mobility. Transdev guides and supports local transport authorities from pre-project phase, to project support and development, to everyday operation of transport networks. With 83,000 employees in 19 countries, the group operates 43,000 vehicles and 22 light rail networks. In 2014, Transdev generated €6.6bn in turnover.