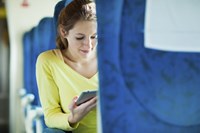 Bitcoin is a virtual currency based on the blockchain, which is a decentralised, transparent and secure storage technology.
"This new service is part of our policy of ground-breaking innovation, exploring different opportunities. We are convinced that learning requires experimentation and this is how we intend to explore new uses and meet customer expectations," explained Richard Dujardin, the Transdev Group's Managing Director for France.
To implement this solution, isilines built a partnership with Paymium, a French start-up specialised in secure and compatible exchanges of bitcoin and euros.
"Paymium is proud to be able to support isilines in this process. isilines is the first company in the industry to implement bitcoin payment, which reflects its capacity for innovation to further improve its customer service." Gonzague Grandval, co-founder of Paymium
This payment method is available on the same basis as the traditional credit card payment and is already operational.
About Transdev
A subsidiary of Caisse des Dépôts and Veolia, Transdev is a world leader in mobility. Transdev guides and supports local transport authorities from pre-project phase, to project support and development, to everyday operation of transport networks. With 83,000 employees in 19 countries, the group operates 43,000 vehicles and 22 light rail networks. In 2014, Transdev generated €6.6bn in turnover.
About isilines
29 routes in operation, more than 80 towns served and 850 connections. 320 jobs created, 130 luxury coaches with free Wi-Fi, air conditioning and toilets on board.
isilines is the new brand of the Transdev group, dedicated to the long distance travel in France. With its entirely national, high quality services at low prices, isilines complements Eurolines' international connections to transform coach journeys.
About Paymium
Created in 2011 by Gonzague Grandval and Pierre Noizat, the French company Paymium is the pioneer of Bitcoin Blockchain services, with several tens of thousands of European customers. The Bitcoin/Euro exchange platform paymium.com is the first of its kind on the European market to offer a service that complies with European regulations regarding payment services. Paymium also offers solutions for traders and payment processors, enabling them to access Bitcoin payments, while minimizing the risks and reducing transaction fees. Paymium uses the Blockchain technology with its key management architecture to offer trustworthy services.