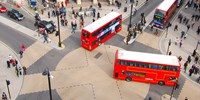 Live bus arrivals information panel within the bus-stop 'flag'
Screen could provide a cheaper way to deliver real time travel information
For the first time customers can receive information about TfL and non-TfL buses serving the same stop
Transport for London (TfL) is trialling a new battery-powered bus stop display screen which will for the first time provide real time travel information on other bus services as well as its own.
The first trial is being conducted at a bus stop at Northwood Station, Hillingdon and will give customers travelling to and from Mount Vernon Hospital all the latest travel information that they need.
The new screens can be quickly and easily attached to bus stop posts and display next bus arrival information to customers. The signs are battery-powered so they are not limited to bus stops with shelters and an electrical power supply.
Simon Reed, TfL's Head of Technical Services, said:
'We are continually exploring new ways to deliver information to our customers while they are on the move and to ensure we are at the forefront of new technology as it develops.
'We will trial this screen for three months and will then evaluate how successful it has been and what our customers think of it. If cost-effective, this type of display could be quickly and cheaply installed at other bus stops with no shelter or power supply. This will widen our reach in providing real time bus arrival information at the stop to our passengers.'
The first of these new screens will be installed at Bus Stop C on Green Lane at Northwood Station, Hillingdon. The screen will display information on TfL bus services operating from the bus stop (routes 282 and H11) as well as cross-border services, in this case, Arriva Route 8 (which runs from Abbots Langley to Mount Vernon Hospital via Watford Junction).
About Transport for London
Virtually everyone who visits, lives or works in London will use one of Transport for London's and every one of those journeys matters to them.
They there to keep London working and growing, and to make life in the Capital better. But a rapidly growing population means achieving this goal is more challenging than ever.
Currently, 8.4 million people live in the Capital. This is expected to become 10 million in the 2030s. We must carry on supporting this growth if London's success is to continue.