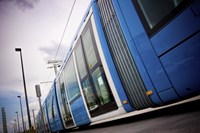 Transport for London (TfL) took a significant step last week in its search for a manufacturer to design and build a new generation of trains for the Docklands Light Railway (DLR), by issuing an Invitation to Negotiate.
Four pre-qualified bidders - Alstom Transport UK Ltd, Bombardier Transportation, Construcciones y Auxiliar de Ferrocarriles, S.A. and a consortium, consisting of Siemens PLC, Stadler Bussang AG and Stadler Rail Valencia SAU - can now proceed to the next stage of the formal procurement process for the new trains, which will come into service from 2022.
The new trains are part of TfL's continued multi-billion pound programme of major investment in new and better public transport to support London's growth and the creation of new homes and jobs.
The order will include 43 new walk-through trains to increase capacity on the DLR by up to 30 per cent, which is needed to support the increased popularity of the railway and the continuing redevelopment of the Docklands area. The new trains will replace rolling stock some of which is nearly 25 years old. They will feature on-board real- time information, air-conditioning and mobile device charging points for the first time, providing customers with better and more efficient journeys.
The contract to build the new trains will be awarded in autumn 2018.
Jonathan Fox, TfL's Director of Rail and Sponsored Services, said:
'This important step in the procurement process brings us closer to delivering the new trains needed to support the continued passenger growth on the DLR, which currently carries 122 million customers a year. These new trains will enable us to increase capacity on the network by up to 30 per cent, significantly improving the comfort, reliability and quality of our service for customers. They will also support the creation of further jobs and homes in the Docklands area.'
The DLR will provide several interchanges with Elizabeth line services between central London, Shenfield and Abbey Wood from 2018. These interchange stations include Canary Wharf, West India Quay, Stratford and Custom House.
The new trains also support the Mayor of London's draft Transport Strategy, which plans to create a fairer, greener, healthier and more prosperous city by improving public transport. London's population growth will place increasing demand on the rail network and the need to create new capacity and unlock access to new homes and jobs is vital to London's success. The higher capacity DLR trains are a key investment in TfL's long term plans to develop infrastructure and assets to meet this demand.
In August the DLR celebrated 30 years of serving east London and to mark the anniversary a '30 things to do by DLR' travel guide and an easier to read line map have been released.
About Transport for London
Virtually everyone who visits, lives or works in London will use one ofTransport for London's and every one of those journeys matters to them.
They there to keep London working and growing, and to make life in the Capital better. But a rapidly growing population means achieving this goal is more challenging than ever.
Currently, 8.4 million people live in the Capital. This is expected to become 10 million in the 2030s. We must carry on supporting this growth if London's success is to continue.