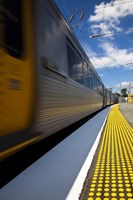 Customers travelling on the northern part of the Victoria line will benefit from more comfortable temperatures on their journey after a new chiller system was installed between Blackhorse Road and Walthamstow Central.
The fan system works by drawing in fresh air from the street through coils which have chilled water flowing through them.
The cooling fan is capable of moving the equivalent of 33 double-decker buses full of cold air every minute. Chilled air is sent into a mid-tunnel shaft between Walthamstow Central and Blackhorse Road Tube stations, reducing temperatures on the platforms and in the tunnel by up to 3 degrees.
Walthamstow is currently one of the warmest stations on the Victoria line, so the breakthrough will help customers during the warm weather. Two of London's busiest Tube stations on the Victoria line are Green Park and Oxford Circus, which were upgraded in 2012 with the installation of air cooling units that reduce temperatures at platform level. The Victoria line train fleet has also been replaced, with the new trains' ventilation systems circulating cool air from ground level into the carriage.
Mark Evers, Director of Customer Strategy, London Underground, said: 'We understand that it can get uncomfortable for customers during the summer months, which is why we are always looking for new ways to help customers beat the heat. Projects like the installation of this fan system demonstrates how we are using innovation to develop new ways to cool the Tube and make customers' journeys better.'
Other measures currently being taken to cool the Tube include:
New air conditioned trains on the Circle, District, Hammersmith & City and Metropolitan lines, with 40 per cent of the network covered by the end of the year
The capacity of the station ventilation fan network has been doubled and 83 fans restored
Portable fans installed within ticket and concourse areas, to increase air circulation at a number of stations
About Transport for London
Virtually everyone who visits, lives or works in London will use one of Transport for London's and every one of those journeys matters to them.
They there to keep London working and growing, and to make life in the Capital better. But a rapidly growing population means achieving this goal is more challenging than ever.
Currently, 8.4 million people live in the Capital. This is expected to become 10 million in the 2030s. We must carry on supporting this growth if London's success is to continue.