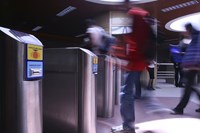 Deal worth up to £15m is a first for TfL and allows other cities around the world to benefit from London's contactless ticketing technology
Transport for London (TfL) has announced its world-class contactless ticketing system is set to be used by other major cities across the globe as part of a deal worth up to £15m, which will be used to help deliver a fares freeze that the Mayor of London, Sadiq Khan has announced across TfL services for the next four years.
TfL signed a deal today (13 July 2016) with Cubic Transportation Systems (CTS), a business unit of Cubic Corporation (NYSE:CUB), allowing them to adapt the capital's contactless ticketing system worldwide. It is the first of a number of planned agreements to sell TfL's expertise both at home and abroad - a key manifesto commitment for the Mayor.
The licence will grant CTS access to London's contactless system, allowing it to be specifically tailored for other world cities' transport systems.
The Mayor of London, Sadiq Khan, said:
'I made a firm commitment to sell Transport for London's expertise around the globe. We will use the income from those deals for further investment in new infrastructure and to freeze TfL fares.'
TfL and CTS have a long-running partnership, having worked together to introduce the Oyster card system in 2003 as well as working together with the UK card industry to make TfL the first public transport provider in the world to accept contactless payment cards. The contactless payment system was first launched on London's buses in December 2012 and expanded to cover Tube and rail services in London in September 2014.
Since then, more than 500 million journeys have been made by more than 12 million unique credit and debit cards from 90 different countries, as well as using contactless-enabled mobile devices. Around one in 10 contactless transactions in the UK are made on TfL's network, making it one of the largest contactless merchants worldwide.
Outside London, CTS also provides smartcard ticketing technology to a number of world cities, including Sydney, Brisbane, Vancouver and Chicago. This new non-exclusive agreement will also enable them to combine the best features from the London and other Cubic systems and make them available to other cities across the globe.
Shashi Verma, Chief Technology Officer and Director of Customer Experience at TfL said:
'We're delighted to have agreed this licensing deal with Cubic Transportation Systems to introduce our contactless payment system to other world cities. Contactless payments have completely transformed the way people pay for travel in London and this deal will allow other world cities to benefit from the hard work we put into making the system work for our customers.'
Matthew Cole, president of Cubic Transportation Systems, said:
'The challenges of mobility in 21st century cities - including access for all, inclusion, environmental concerns and the pressure of ever-growing populations - can only be met through cooperation and partnership. No single entity has all the answers and this agreement between Cubic and TfL sets a new standard in public/private partnerships for addressing these issues, and acknowledges the success of account-based payment for transit for which there is clear interest from many cities across the world.'
About Transport for London (TfL)
Virtually everyone who visits, lives or works in London will use one of Transport for London's and every one of those journeys matters to them.
They there to keep London working and growing, and to make life in the Capital better. But a rapidly growing population means achieving this goal is more challenging than ever.
Currently, 8.4 million people live in the Capital. This is expected to become 10 million in the 2030s. We must carry on supporting this growth if London's success is to continue.