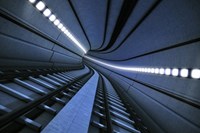 In advance of the Night Tube launching on the Central and Victoria line on Friday 19 August, Transport for London (TfL) has updated its extensive open data Application Program Interface (API) so customers who use travel apps can start to plan their Night Tube journeys.
The data, available free of charge, forms part of TfL's commitment to make real-time travel information openly available to help developers create better products and services for customers.
The API now contains the planned journey timetables for Night Tube services on the Central and Victoria lines on Friday and Saturday nights. As other Tube lines start running Night Tube services, the API will also be updated to include these services too.
Night Tube service information will also be available on TfL's in-station digital customer information boards and through the Journey Planner on the TfL website, which itself is accessible in a convenient form through any device.
The API also contains live travel information on buses, river bus services and Trams, accessibility and car park information for all TfL stations and live travel information on the status of roads. More than 8,500 developers have registered to access our free open data, helping to power more than 500 travel apps. Following this latest release to the API, TfL is identifying further data feeds, which could help customers with their journeys.
Phil Young, Head of Online at TfL, said: 'London is a 24-hour city and millions of Londoners use apps powered by our open data to check the Tube, find a bus or see how the roads are running. By making information about the Night Tube services easy for customers and developers to access, we hope to make it easier for everyone to enjoy all that London has to offer and support the thousands of Londoners who have to travel to or from work during the night.'
Since June, customers have also been able to get direct disruption alerts straight to their mobile device by visiting tfl.gov.uk/twitter-alerts as part of a world-first partnership between TfL and Twitter. The partnership allows customers to opt-in for automatic alerts of severe delays, which can be personalised for certain times of day, for all 14 London Underground and TfL rail services as soon as they occur.
Already, around 7,000 customers have signed up for the alerts and earlier this week, TfL extended the service to its @tfltravelalerts feed. This new feature will allow followers to opt-in for a weekly alert of planned weekend closures on TfL lines, helping them better plan how they travel around the weekend.
About Transport for London
Virtually everyone who visits, lives or works in London will use one of Transport for London's and every one of those journeys matters to them.
They there to keep London working and growing, and to make life in the Capital better. But a rapidly growing population means achieving this goal is more challenging than ever.
Currently, 8.4 million people live in the Capital. This is expected to become 10 million in the 2030s. We must carry on supporting this growth if London's success is to continue.