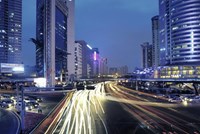 British Transport Police (BTP) officers will be patrolling on stations and trains when Night Tube services begin on the Central and Victoria lines this weekend, TfL has confirmed.
The deployment will help customers travel with confidence, and is part of an investment by TfL of an extra £3.4 million towards policing for the Night Tube.
This will see around 100 officers out on the network when full services are underway, with at least as many officers out during the night as would be seen during the day.
Rapid-repsonse
A state-of-the-art BTP Control Centre is co-located with London Underground's Control Centre, both of which operate 24-hours a day, meaning that any incident can be spotted and responded to quickly.
Officers will be supported by BTP rapid-response vehicles spread across London and by more than 12,000 CCTV cameras across the network.
All stations will be staffed throughout the night, ensuring passengers always have someone to speak to should they have any questions or need assistance.
Officers from the Metropolitan Police Service, responsible for policing beyond the Tube stations, will also be at key hubs and bus stations assisting passengers where necessary.
Crime rates have fallen
Crime on London's transport network is low, with crime rates having fallen by more than 20% over the last five years. Evidence from 24-hour metros around the world also suggests that crime levels at night are no greater than during the day.
The first two Tube lines, Victoria and Central, start operating Night Tube services at 51 stations on Friday and Saturday nights from this weekend (19 and 20 August).
Mayor of London, Sadiq Khan, said: 'The opening of the Night Tube marks the start of an exciting new chapter in London's life. It will unlock the full potential of London's night time economy and support the thousands of Londoners who travel to or from work at night.
'Keeping Londoners safe is my number-one priority. The extra investment in British Transport Police officers will ensure that all Londoners using the Night Tube feel safe, whether getting back from work or going out at the weekend with friends.
'Passengers on the Night Tube must be able to travel with the same confidence they are used to during the day. That's why we're investing £3.4 million to ensure that dedicated officers are on hand to offer the support and visible reassurance Londoners expect.'
Quick, reliable and affordable
Inspecting preparations for Night Tube service, Mark Wild, TfL's Managing Director for London Underground, said: 'The Night Tube is going to be great for London, with quick, reliable and affordable night time journeys making life easier for Londoners.
'Along with the police we looked at 24-hour metro services all over the world and found that crime is no greater during the night than it is in the day.
'But we want to make sure all of our customers can travel with confidence. That's why we are investing in this highly visible presence of officers who, alongside our staff at every station, will be on hand to assist customers and ensure they get around safely.'
Visible uniformed presence
British Transport Police, Chief Superintendent Martin Fry, said: 'We have recruited extra police officers in order to ensure there is a visible uniformed presence across the network on Friday and Saturday nights.
'Station staff and passengers will see a presence at key stations, and mobile teams who will travel the lengths of the Central and Victoria lines throughout the night and the Northern, Piccadilly and Jubilee lines, once they are open.
'A network of BTP rapid-response vehicles across London will also be in place to ensure police will be ready to attend any incident quickly.
'Police presence will be backed up by CCTV cameras across the network, supported by the London Underground Control Centre, which operates 24-hours a day, seven days a week, working closely with the police to respond to any incidents that may occur.
'Night Tube will be of great benefit to the whole of London - and British Transport Police is working with Transport for London, the Metropolitan Police Service, London Ambulance Service and London Fire Brigade to ensure the Underground remains a safe environment.'
Safe and secure environment
Chief Inspector Colin Carswell, of the Roads and Transport Policing Command (RTPC), which leads the Metropolitan Police Service's response to the implementation of the Night Tube, said: 'The Night Tube is a great welcome to London's 24-hour economy.
'The RTPC will continue working with TfL and policing colleagues from BTP to keep the transport network a safe and secure environment.'
City of London Police, Superintendent Paul Clements, said: 'We already have a robust, visible policing strategy across the City throughout Friday and Saturday nights, and we are confident we will be prepared and ready to attend all incidents quickly.
'However, we are not complacent and we are aware that extra Tube services are likely to mean greater footfall in the area, allowing people to visit licensed premises for longer, or to vary their working hours within the City, for instance.
'We're determined to ensure The City of London remains a low-crime environment, and we are working closely with our colleagues from Transport for London, Metropolitan Police and British Transport Police to ensure everyone gets to and from their destinations in a safe and secure manner when the new services start.'
Although the Night Tube will provide a safe and easy environment to make their journeys, passengers should make sure their last mile home is also a safe one by either using a Night Bus, black cabs or pre-booked minicab with a licensed operator.
Minicabs can either be booked in person at a minicab office, over the telephone or via a cab booking app. Any minicab driver who picks up an unbooked passenger off the street is acting illegally.
About Transport for London
Virtually everyone who visits, lives or works in London will use one of Transport for London's and every one of those journeys matters to them.
They there to keep London working and growing, and to make life in the Capital better. But a rapidly growing population means achieving this goal is more challenging than ever.
Currently, 8.4 million people live in the Capital. This is expected to become 10 million in the 2030s. We must carry on supporting this growth if London's success is to continue.