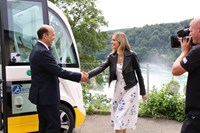 The autonomous mobility project launched by Trapeze and AMoTech in Neuhausen, Switzerland has generated enormous attractive power. Many people interested in this topic from Switzerland and beyond wish to experience the self-driving vehicle "Trapizio" live and to find out more about how it has been possible to successfully integrate it as "Route 12" in fixed-route services of the public transport authority of Schaffhausen.
In June 2018, a particularly large number of distinguished guests paid a visit to Trapeze and AMoTech. The interest expressed by these illustrious visitors was keen, and the representatives of Trapeze were pleased to reply to their many questions. Thanks to accurate planning and careful advance organisation, all the events went off smoothly.
Here are some of the many highlights:
CNN reports live from Neuhausen am Rheinfall
On 10 June, a race between electric vehicles was held for the first time in Zürich, the so-called "Formula E." In the course of this event, CNN – a US-American television station – also paid a visit to Trapeze in Neuhausen in order to learn more about electric powered vehicles and autonomous mobility. The CNN team were conducting their research for the monthly broadcast "Supercharged," which focuses on motor sports and electric vehicles. It was with pride that CEO Peter Schneck in an interview presented the successes so far achieved and talked about the plans for future development of autonomous mobility by Trapeze and its affiliated company AMoTech.
Baden-Württemberg's Prime Minister in Neuhausen
On 21 June, Baden-Württemberg's Prime Minister Winfried Kretschmann together with a large specialist delegation paid a state visit to Schaffhausen/Neuhausen. Its purpose was to strengthen the collaboration between the Swiss Canton of Schaffhausen and the neighbouring German Federal State of Baden-Württemberg. One of the important items on the agenda was to have a closer look at Route 12, which gave the politicians a more accurate picture of trend-setting autonomous mobility in regular public transport services. The delegation was accompanied by numerous media people so that Trapeze achieved a powerful presence also in the media.
Members of Parliament from Germany, Austria and Switzerland pay a visit to Trapeze
The IPBK Presidents held their meeting just one day later (IPBK is the international parliamentary conference of the countries bordering on the Lake of Constance). Here, too, one of the items on the agenda was a visit to Trapeze and AMoTech. The high-ranking parliamentarians from various cantons in Eastern Switzerland and the neighbouring federal states in Germany and Austria were treated to a spin with Trapizio to give them a live experience of the essence of autonomous mobility.
Information on the Route 12 project was also in high demand beyond Trapeze's location, for example in Germany. Trapeze CEO Peter Schneck had received invitations to visit Dresden and Berlin, which he was pleased to accept personally.
Peter Schneck delivers speech at the VVO specialist meeting in Dresden
The subject of this year's VVO specialist meeting held in May 2018 was digitisation (VVO = public transport association of Oberelbe). The focus here was on how the digital future stands to change urban public transport. This provided an ideal platform for Trapeze to discuss autonomous mobility. Trapeze CEO Peter Schneck told the numerous public transport representatives about his vision of how self-driving vehicles may change mobility.
Trapeze CEO delivers a speech in the Federal Ministry in Berlin
In June 2018, the German Federal Ministry of Nutrition and Agriculture headed by Federal Minister Julia Klöckner held a conference on the digitisation of rural areas. Trapeze had received an invitation to play an active part in the conference. At the event, Trapeze CEO Peter Schneck talked about digitisation and autonomous mobility and also told his audience how Trapeze had already implemented such trend-setting developments.
About Trapeze Group
Trapeze's products and comprehensive solutions support both public and private transport companies from the back office, through to the bus or train driver's seat, assisting with planning and operations management, via control systems, passenger information solutions, fare management and corporate management tools. They develop, deliver and support IT, ITS and ticketing solutions and services that make it easier for transport authorities and operators to manage their complex, day-to-day business. They have the unique ability to build an effective and collaborative partnership with you, due to our focus on serving the transport industry with a broad product portfolio that will ensure your passengers reach their destinations quickly, comfortably and reliably.