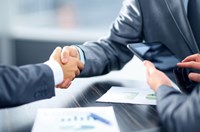 Trapeze is entering the autonomous mobility revolution with partner BestMile to offer public transport agencies the world's first solution for managing hybrid fleets with both autonomous and non-autonomous vehicles.
The young Swiss company BestMile has specialized in fleet management and optimization for autonomous vehicles. In future, BestMile will work together closely with the leading transportation software provider Trapeze. The aim is to achieve seamless integration of autonomous vehicles in Trapeze's LIO control centre in all aspects so they can be managed together with existing conventional vehicle fleets without needing additional resources. As well as being compatible with autonomous vehicles, the integration also offers Trapeze's clients greater flexibility: BestMile's platform is built to be compatible with every autonomous buses on the market.
The management and optimization of hybrid fleets will be the cornerstone of the autonomous mobility revolution. Vehicles with a driver will coexist with autonomous vehicles and will have to be operated and optimized as a whole. This will play a key role in helping cities all over the world to become Smart Cities. "For Trapeze it is crucial to deliver scalable, long-term, flexible solutions to offer clients the best possible support. Partnering with BestMile, one of the most promising companies in autonomous mobility, ensures our clients will have all the tools needed to use revolutionary autonomous mobility," says Peter Schneck, CEO of Trapeze Switzerland GmbH.
Trapeze's LIO intermodal operations control system helps public transport companies by providing technological, ecological and business expertise. The integration with BestMile technology encompasses passenger assistance and support, vehicle monitoring and dispatching, passenger information on all channels, transfer protection, data collection and reporting.
All applications can be readily tailored to specific needs in terms of service, operating regulations, passenger numbers and IT environment. Trapeze offers planners and transport agencies an entirely new tool with several software modules for active decision-making support. In the event of operating disruptions and similar incidents, LIO not only displays operations-related information, but also suggests intelligent and correct action steps and checklists in accordance with the particular situation.
BestMile is revolutionizing mobility by providing the world's first platform for the intelligent operation and optimization of autonomous vehicle fleets, regardless of vehicle brand or type. It manages both regular and on-demand services. The platform works with cutting-edge algorithms to send optimized assignments to the vehicles with seamless handling of planning, dispatching, routing and battery changing management. This new partnership is taking BestMile into a new dimension: "Working with the leading company in transportation software is a springboard for BestMile. This partnership will put our technology in pole position in every big city where Trapeze solutions are already in place. In addition, it confirms that our timing is right and that the market needs a solution like ours," says Raphael Gindrat, BestMile CEO.
Furthermore, this cooperation with Trapeze is the first time that BestMile's platform has been integrated in an established IT software to offer compatibility with autonomous vehicles. "From now on, our platform acts not only as a turnkey solution but also as a technology that makes any existing software compatible with autonomous vehicles. This opens countless opportunities while reinforcing the incentive for manufacturers of autonomous vehicles to work with BestMile," adds Raphael Gindrat.
Public transport has the potential of leading and shaping the introduction of autonomous driving. Driverless vehicles are not a threat to the model used by urban and regional transport operators. Instead they pave the way for additional services and make public transport more attractive. Autonomous mobility will blur the frontier between public transport and individual transport services, and remove the tension between sustainability and service quality for citizens.
About Trapeze
Trapeze is a global leader in providing public urban passenger transport solutions. Trapeze Switzerland GmbH in Neuhausen, Switzerland, is the European headquarters of Trapeze Group. The company offers public transport authorities comprehensive operations control and information systems for improving on-time services, reducing trip times and increasing the accuracy of transfers, as well as dynamic passenger information systems. Internationally present, Trapeze collaborates closely with its customers in developing, producing and integrating high-quality operations control systems, on-vehicle computers, passenger information displays at stops and inside vehicles, fare and ticketing solutions, and customised services.