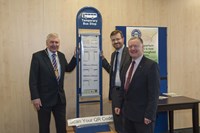 Congratulations to all at Aberdeenshire Council, who have officially launched a new RTPI system provided by Trapeze. Here's how the council announced the news:
A new bus information system is being introduced across Aberdeenshire to help passengers plan better and make public transport a more attractive option.
The new Real Time Passenger Information (RTPI) system means bus users can see the actual time buses will arrive at stops, rather than their scheduled arrival.
With more accurate and reliable information on bus times, customers will be able to make more informed choices about their travel plans.
The system can be accessed by a mobile phone app and online, so passengers can make decisions while on the move or before heading off to the bus stop.
Passengers at any Aberdeenshire bus stop with a timetable case will alsobe able to use an enabled smartphone to scan the Quick Response (QR) "tag" to access the information.
Accurate times will also be displayed on the Council's electronic departure information screens, located at principal bus stops across Aberdeenshire.
Providing real time travel information is a key objective in Aberdeenshire Council's Bus Information Strategy.
Aberdeenshire Provost, Hamish Vernal, launched the RTPI system in Aberdeen on Monday. (January 25)
"I am delighted that Aberdeenshire residents now have access to higher quality bus information than has ever existed before," he said.
"By providing real time departure information we hope to enhance the service provided to our existing customers and improve the perception of public transport among non-bus users to hopefully encourage greater use of the bus service."
Chairman of Aberdeenshire Council's Infrastructure Services Committee, David Aitchison, said: "This is an important development in public transport in Aberdeenshire and a major step forward in the provision of bus information in the region.
"We believe this will be extremely well used by people travelling in our area, allowing them even more confidence when planning a journey by public transport, but also minimising any time wasted standing waiting for a bus which is running late and allowing them to get on with other aspects of their lives."
The new system tracks the actual location of the bus, comparing this to the scheduled timetable to provide customers with much more reliable information on when a bus will depart from their stop. The information can be accessed on the Aberdeenshire Council and Traveline Scotland websites, and using the Traveline Scotland smart phone app.
The project was developed by Aberdeenshire Council with the software supplier Trapeze Group and in partnership with bus operators, in particular Stagecoach North Scotland, Bain's Coaches and First Aberdeen.
Aberdeen City Council and Nestrans contributed, allowing the information to be provided region-wide by using Aberdeenshire Council's RTPI system to provide real-time departure information at city locations for rural bus services.
Stagecoach has developed a vehicle tracking system that interacts with Aberdeenshire's RTPI system, allowing all of its local services to be included.
A similar system is used by First Aberdeen which also now links to Aberdeenshire's RTPI system.
Bus services operated by other companies in Aberdeenshire will also show real time departures using Aberdeenshire Council's vehicle tracking system.
About Trapeze Group
As stakeholders in the public transport sector Trapeze Group aims to match that dedication; recognising that we too play a vital role in this transport ecosystem. As Local Authority budgets continue to shrink - and commercial operators face similar constraints - our customers rely on us to deliver the tools they need to do their jobs with ever more efficiency.
Together we are working to increase the effectiveness of public transport; promoting it as not only the transport system of tomorrow, but of today.