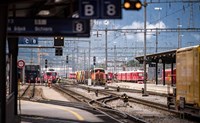 The traditional Swiss railway operator Rhaetian Railway (RhB) recently commissioned its new, state-of-the-art communication system and radio console PA-R-I-Ty by Trapeze. Trapeze's visionary system is being used by RhB for IP-based voice and data radio to manage both its train services and its shunting operations.
RhB's train services and shunting operations are managed primarily by the Rail Control Centre in Landquart and also by the Remote Control Centre in Klosters. These complex tasks are now handled with the greatest possible efficiency by the dispatchers and train dispatchers at RhB using the PA-R-I-Ty system by Trapeze with its multifunctional operator consoles. At the moment, ten radio channels for communication along the trip, 52 radio channels for shunting assistance and RhB's VoIP telephone switchboard are connected up to the PA-R-I-Ty system. The system also has an external call recording system. The PA-R-I-Ty system gives Rhaetian Railway and its employees the benefit of improving the organisation of their voice communication.
IP-based radio for communication along the trip
The radio systems for communication along the trip are connected as pure software solutions with modern IP-capable technology via gateways installed at two redundant radio controllers. Proven radio interfaces are used to connect the radio channels for shunting assistance. The telephone switchboard has its own VoIP gateway connecting it to the PA-R-I-Ty system. Landquart has altogether 13 dispatcher workstations, with another three in Klosters. The users can talk with train drivers, shunting workers, colleagues and external persons. All central components of the system are redundant, so that it remains fully functional even in the event of network disruptions between two locations.
Simple but effective voice communication
Voice communication is organised so that calls from radio or phone subscribers are always only put through to the dispatchers responsible for the respective call, making optimum use of the role management feature in the PA-R-I-Ty system. If a call goes to an unmanned workstation, it is forwarded automatically, thus ensuring that no call gets lost. The dispatchers in Landquart can also make loudspeaker announcements at the stations in Chur and Landquart. These loudspeakers belong to the Swiss railways SBB, so that a corresponding interface has been created between PA-R-I-Ty and SBB's operational telecommunications system.
The system has a central phone book which is used by the dispatchers at their workstations. Regular automatic synchronisation with Outlook and with RhB's Active Directory keeps the central phone book up to date at all times.
Another major advantage of the system: is that it permits not just voice connections between dispatchers and radio subscribers. Voice connections are also possible between phone network and radio network, thanks to intelligent call number plans, as well as using an IVR (interactive voice responder).
Hitherto, Trapeze has already played a leading role for operations control systems, passenger information and ticketing. This successful project now also reinforces the company's position in the field of voice communication.
About Trapeze Group
Trapeze Group is a provider of transport technology solutions designed to help providers deliver greater mobility and improved services to customers while benefiting from improved management capabilities and greater efficiencies. The company works with local and combined authorities as well as PTEs, commercial operators, private hire and taxi companies and rail operators.