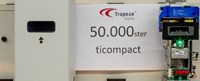 Passengers using public transport expect more than just reliable, safe and fast transport services. They also set great store by simple solutions for buying, checking and validating their tickets. Validator specialist Trapeze-Elgeba has now delivered its 50,000th ticompact ticket validator to Verkehrsbetriebe Hildesheim.
Trapeze-Elgeba offers decades of experience and unbeatable know-how in both hardware and software for the whole field of fare management. More than 120,000 Trapeze ticket validators are in service worldwide. As of 12 October 2016, the company has now delivered the 50,000th ticompact ticket validator to Stadtverkehr Hildesheim (SVHI) in the ticompact 04 version.
Everyday, passengers all over the world use ticket validators by Trapeze-Elgeba. The ticompact model was designed and certified for mobile use in road and rail vehicles in the public transport sector. The ticket validators in this series are extremely robust and stand out with a long life span. Thanks to modern technology, they need minimum maintenance while being resistant to wear and tear and easy to keep clean.
Comprehensive product range
Trapeze-Elgeba develops, produces and sells comprehensive solutions for purchasing tickets at home, en route, in the vehicles or at stops. The products are manufactured or adapted to fit the specific needs of the individual customers. The range extends from electronic tickets via mobile and stationary ticket vending machines, advance sales and internet solutions through to the Be-in/Be-out solution and the corresponding backend systems. Trapeze-Elgeba stands for tailor-made ticketing solutions that meet the needs of transport service providers and passengers.
Product history
The first ticket validators in the ticompact series were produced and delivered in 2002. Continuous further development has taken place since then, with product improvements introduced regularly.
Successful ticompact series
Compared to earlier models, the ticompact scores with the following advantages: the model with wear-resistant type wheels and the robust matrix printer comes equipped with flash technology for uploads and downloads. This is used for firmware and configurations, saving and exporting history and automatic function monitoring with a fault memory. ticompact also has a comprehensive test program.
New technology to save costs
A stepper motor supports visual positioning and adjustment of the type wheels. The new drive technology also reduces the unit weight. The concept has fewer expendable mechanical parts to cut back on operating costs as well. It manages without mechanical/magnetic type wheel positioning for example, because the magnet blocks are very expensive.
Easy to operate
Smooth-running ticket insertion slots and visual LED status displays ensure easy insertion of the ticket, even under adverse conditions in the vehicle.
Time-saving installation
Various support brackets for mounting on posts and walls facilitate universal installation in almost any type of vehicle. ticompact validators are easily installed or removed from vehicles with a minimum of fuss, whenever the need arises.
Safe design
Housing and bracket corners are generously rounded, with effective self-extinguishing polyurethane foam padding to help prevent injuries. ticompact thus far surpasses the requirements of the UN/ECE Guideline No. 21 of the European Union regarding the design of on-board equipment in moving vehicles.
About Trapeze
Trapeze is a global leader in providing public urban passenger transport solutions. Trapeze Switzerland GmbH in Neuhausen, Switzerland, is the European headquarters of Trapeze Group. The company offers public transport authorities comprehensive operations control and information systems for improving on-time services, reducing trip times and increasing the accuracy of transfers, as well as dynamic passenger information systems. Internationally present, Trapeze collaborates closely with its customers in developing, producing and integrating high-quality operations control systems, on-vehicle computers, passenger information displays at stops and inside vehicles, fare and ticketing solutions, and customised services.