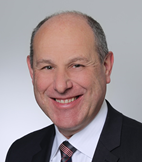 Flavio Carraro, an IT engineer graduate, is joining the Trapeze Group in Europe effective 1 July 2017. As Member of the Executive Board of Trapeze Switzerland GmbH, he will take charge of the entire Technical Division. Some of his main goals are efficiency, quality, standardisation, compliance with scheduled dates and transparency at the Trapeze-locations in Switzerland, Poland and Germany.
Flavio Carraro is an IT engineer graduate and has acquired decades of management experience in innovation and the sale of extensive industrial IT systems. In his new function, he is succeeding Dr. Udo Kerwath, who is taking up a new challenge. In the past years, he has specialised in the development of industrial software for the companies Uster Technologies AG and LOOMDATA Systems AG, among others. He has also gathered experience in the development and establishment of complex process control systems. "We are pleased that, in the person of Flavio Carraro, we have found a highly qualified successor for filling this responsible position. We are convinced that his vast expertise will enable him to make a significant contribution to the further development of Trapeze and our business," said Peter Schneck, CEO of Trapeze Europe.
About Trapeze
Trapeze is a world-leading supplier of public transport solutions. The companies in the Trapeze Group supply state-of-the-art software, Intelligent Transportation Systems (ITS) and mobile technologies to passenger transportation companies. Hundreds of public and commercial companies in North America, Europe, South Africa and Asia use Trapeze products to increase their efficiency, improve the quality and scope of their services and transport more people at lower costs.
The European headquarters of the Trapeze Group is Trapeze Switzerland GmbH at Neuhausen, Switzerland. The company provides transport authorities, agencies and operators with comprehensive control and information systems that enable better punctuality, shorter journey times and more precise transfers as well as dynamic passenger information and ticketing. With a strong international presence, Trapeze works in close cooperation with its customers to provide high quality control systems, on-board computers, passenger information signs at the stops and in the vehicles, a comprehensive ticketing solution along with a range of other customised services. For more information see www.trapezegroup.com. The Trapeze Group is a member of Constellation Software Inc. (TSX: CSU).