Glenn Lyons is Professor of Transport and Society and founder of the Centre for Transport & Society (CTS) at UWE Bristol. He was CTS Director from 2002-2010 and is now Associate Dean (Research and Knowledge Exchange) for the Faculty of Environment and Technology. He is currently on secondment to the New Zealand Ministry of Transport as a Strategy Director and is leading a major piece of work examining future demand for travel out to 2042.
Titled "Making sense of end-users of travel information", Glenn's opening plenary presentation will look inside the mind of the traveller and at the context of people's lives in which travel decisions are made and which give rise to the demand for information.
The opening plenary session is on Wednesday 12th November. You can see the full agenda here and for all of the details of the conference please visit this page.
About Trapeze Group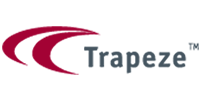 Trapeze Group is a world-leading supplier of comprehensive public transport solutions. Its planning, operating, passenger information and ticketing systems enable hundreds of public and private organisations around the world to enhance the efficiency and quality of their operating processes, to extend their range of services and to move people faster and more safely to their destination. Our products support fixed route, demand response and ad-hoc transport and are applied for road and well as rail-borne vehicles.