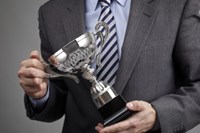 Gloucestershire County Council has been announced as a finalist in the 2017 National Transport Awards, making the shortlist for Transport Local Authority of the Year.
The Council is among seven finalists competing for the award, in recognition of its 'talking app' initiative for buses which improves the availability of travel information for the entire public – and with particular focus on accessibility for the blind and partially sighted community.
Working in partnership with transport technology specialists, Trapeze Group UK, and with input from local disability group Gloucestershire Voices, the Council's Integrated Transport Unit team developed GlosTalk. The app, which is available for iOS, Android and Windows phones, benefits users in three key ways. First, by using audio commands to guide them to their nearest bus stop; secondly, by telling them when their chosen bus is due to depart; and thirdly, by warning users when they need to alight the bus.
Commenting on the shortlisting, Nick Bauer, Transport Technology Officer at Gloucestershire County Council, said: "The National Transport Awards is a highly prestigious event, so to be shortlisted –especially in the much coveted Transport Local Authority of the Year category – is an honour. We're incredibly proud of the work we've done to improve access to public transport in the region.
"For blind and partially sighted people, the use of public transport has historically been, at best, cumbersome and stressful; at worst dangerous or even impossible. Through GlosTalk we're making bus travel much more accessible by providing a solution which takes into account every stage of a passenger's journey, from finding the nearest bus stop and finding out when a bus is due, to getting off the bus."
Tim Porter, Managing Director for Trapeze Group in the UK, which worked alongside GCC to design GlosTalk, added: "GlosTalk is a great example of how technology can be leveraged to deliver a fully inclusive public transport service, particularly for visually impaired passengers. We're thrilled to be part of the project and congratulate Nick and the rest of the Integrated Transport Unit team at Gloucestershire County Council on being named as a finalist."
Supported by the Department for Transport, Transport Focus, and the Association for Consultancy & Engineering, the 2017 National Transport Awards will take place in London this autumn. Now in its 17th year, the annual industry event celebrates innovation and excellence across the public transport sector; specifically, acknowledging local and national projects that improve passenger experience.
The overall winners will be revealed at a prestigious ceremony on 12th October 2017, hosted by former Labour Communications Director, Alastair Campbell, and featuring a keynote speech from Rt Hon Chris Grayling MP, Secretary of State for Transport.
About Trapeze Group
Trapeze Group is a provider of transport technology solutions designed to help providers deliver greater mobility and improved services to customers while benefiting from improved management capabilities and greater efficiencies. The company works with local and combined authorities as well as PTEs, commercial operators, private hire and taxi companies and rail operators.