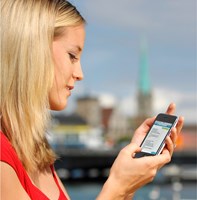 At the upcoming IT-TRANS, the international trade fair for IT trends and innovations in the field of public passenger transport to be held in Karlsruhe from 1 to 3 March 2016, Trapeze will be showing innovative solutions in the areas of planning, operations control, vehicle equipment, fare management and passenger information. At its Booth C21 in Hall 2, Trapeze will this year present a number of innovations and additions to its planning and ITCS systems.
Trapeze as a global organisation develops complete solutions for public and private transport companies around the globe. Its innovative and high-quality solutions and products optimise the range of transport services that can be offered to passengers as well as the control of transport company operations. At the Trapeze Booth C2, the company will present its latest solutions for fixed route, demand response and student transport services: systems for planning and operations control, passenger information, vehicle equipment and services. Interesting papers presented at the IT-TRANS will underscore the expertise of Trapeze.
Trapeze focus 2016
Operations planning in an understandable and flexible form – done easily with the aid of a browser
With its newest-generation planning system, Trapeze offers comprehensive functionality paired with the convenience of a browser-based, easy-to-use interface. In addition to integrated trip, tour and service planning, the layout template also supports the creation of timetable posters and printed schedule booklets. Thanks to standard interfaces with the upstream and downstream systems, data exchanges are child's play. The availability of all the relevant information in the multi-user-enabled database and GIS functionality allow faster and easier adjustment of planning to operational changes as well as extensive possibilities of evaluation.
LIO Business Intelligence enhances operating efficiency
Reliable operating data are a valuable source of information for any transport company, for they are the key to improving the quality of services. With its new Business Intelligence tool, Trapeze offers a comprehensive solution in this area. Easy-to-create reports and analyses offer a permanent overview of a company's performance. They allow the benefits of the ITCS systems of Trapeze to be utilised in the best possible way and operations to be decisively optimised.
Real-time passenger information made easy
The new TDI data interface of Trapeze (= Traveller Data Interface) enables transport companies and other service providers to offer passengers online and real-time service data via an App. All the data originate from a single source and are therefore always up-to-date and consistent. Moreover, they can be combined in multiple ways. This allows individualised travel information to be generated with a high level of meaningfulness and accuracy.
Incident management supports dispatchers
With its LIO-IDS system, Trapeze offers dispatchers an entirely new tool for intelligent decision-making support (IDS = Intelligent Decision Support). In case of incidents, LIO-IDS not only displays operations-related information, but also proposes intelligent and correct actions that are independent of the specific situation. The Incident Manager module offers dispatchers, supervisors and shift managers an optimal overview of all current service occurrences. The Procedure Manager module enables work procedures and processes to be defined and allocated to individual incidents.
On-board computers for all applications
Trapeze can offer every customer a suitable on-board computer solution from its portfolio. A complete on-board computer functionality is offered, for example, by the tried-and-tested combination of the IDR on-board computer and the Intelligent Touch Terminal ITT. To supplement our portfolio, we have now also developed the new, low-cost IP Terminal IPT, which is available in 7" and 8" versions. The ITT suggests itself as a standalone solution for a smaller scope of functions or our SmartVLU-App for displays on mobile devices.
Vast experience, global presence, local implementation
With its track record of several decades and its sound expertise, Trapeze is the ideal partner for all public transport projects. Consistent system solutions reduce travel times of buses and trains, increase the punctuality of services, improve the accuracy of transfers and ensure permanently available passenger information. Trapeze integrates both new and existing components in state-of-the-art total systems.
Come to the Trapeze exhibition booth to experience comprehensive solutions for bus and train fixed route services and demand response services for vehicles:
High-quality systems for integrated planning and operations control
Solutions for staff planning and fleet management
Passenger information in real time
State-of-the-art on-board computers, user terminals and passenger information displays
Flexible vehicle tracking systems vie mobile Android devices
Varied analysis tools such as Business Intelligence
Comprehensive ticketing solutions: validators, ticket machines, ticket printers
Efficient driver training plus monitoring tools for higher safety and Eco Driving
Simulation and modelling of railway traffic
Interesting presentations of Trapeze at the IT-TRANS
"How Can History-based Predictions Improve Service Quality?"
Presentation series "Intermodal Transport Control Systems", 2 March 2016, 11:00-12:30 Dominique Müller, Director Innovation, Trapeze Switzerland
"Be-in/Be-out Ticketing Enables Seamless Multi-modal Mobility"
Market Update Forum, "Ticketing", 1 March 2016, 14:00-15:30 Manfred Retka, Business Development Director, Trapeze Germany
About Trapeze Group
Trapeze is a world-leading supplier of public transport solutions. The companies in the Trapeze Group supply state-of-the-art software, Intelligent Transportation Systems (ITS) and mobile technologies to passenger transportation companies. Hundreds of public and commercial companies in North America, Europe, South Africa and Asia use Trapeze products to increase their efficiency, improve the quality and scope of their services and transport more people at lower costs.
The European headquarters of the Trapeze Group is Trapeze Switzerland GmbH at Neuhausen, Switzerland. The company provides transport authorities and operators with comprehensive control and information systems that enable better punctuality, shorter journey times and more precise connections as well as dynamic passenger information and ticketing. With a strong international presence, Trapeze works in close cooperation with its customers to provide high quality control systems, on-board computers, passenger DPI signs at the stops and in the vehicles, a comprehensive ticketing solution along with a range of other customised services. For more information see www.trapezegroup.com. The Trapeze Group is a member of Constellation Software Inc.