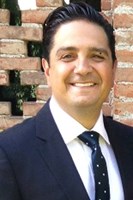 Keyvan Shokoofh, a graduate in business administration, will join Trapeze effective 1 September 2016. As Director Business Unit International and Member of the Executive Board of Trapeze Switzerland GmbH, he will take charge of the entire sales business of the operations control, passenger information and fare management functions outside Trapeze's core European market.
Keyvan Shokoofh holds an Executive MBA degree and has accumulated several years of sales experience in an industrial environment, and he possesses an in-depth understanding of the development and sale of complex public transport solutions. In this function, he is succeeding René Zeller, who has taken up a new challenge outside Trapeze.
Keyvan Shokoofh's most recent position was that of Global Business Development Director for the Terex Corporation, a global provider of elevating and materials handling solutions. Before this, he held various positions as Sales Director for ABB in Europe, in North America and on a global scale, where he accumulated his broad experience and in-depth understanding of public transport.
"We are happy to have found Keyvan Shokoofh as a competent and dynamic personality as successor for this demanding role. We are convinced that he can make a substantial contribution to the further development of Trapeze and our global business," says Peter Schneck, CEO von Trapeze.
About Trapeze
Trapeze is a global leader in providing public urban passenger transport solutions. Trapeze Switzerland GmbH in Neuhausen, Switzerland, is the European headquarters of Trapeze Group. The company offers public transport authorities comprehensive operations control and information systems for improving on-time services, reducing trip times and increasing the accuracy of transfers, as well as dynamic passenger information systems. Internationally present, Trapeze collaborates closely with its customers in developing, producing and integrating high-quality operations control systems, on-vehicle computers, passenger information displays at stops and inside vehicles, fare and ticketing solutions, and customised services.