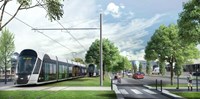 Additional orders are further strengthening Trapeze Group's commitment in Luxembourg. Following the recent system migration order placed by Trapeze's long-time customer Ville de Luxembourg (Service des autobus – AVL), the tramway operator Luxtram has now also opted for a Trapeze operations control system.
The Grand Duchy of Luxembourg with its capital of the same name at its centre covers an area of 2,586 square kilometres and is populated by some 600,000 inhabitants. In the capital, the urban bus authority Autobus de la Ville de Luxembourg (AVL) operates some 200 buses on 31 regular bus routes, four night bus routes, two special-purpose routes and the school bus transport routes. The company with its roughly 550 employees moves some 40 million passengers every year quickly and safely to their destinations. In order to improve public transport services in the capital, an additional modern tramway system is now being planned. Luxtram AG has been assigned the task of designing, constructing and operating this tramway network. In the future, it is to contribute to the development of sustainable mobility (mobilité durable – MoDu) in Luxembourg.
AVL's order for migration awarded to Trapeze
AVL has relied since 2006 on a Trapeze operations control system, on tried-and-trusted Trapeze on-board computers including driver terminals and on displays at stops. In addition to offering on-time services, consistent passenger information is another important aim of AVL.
In order to make the operations control system fit for meeting future challenges, Trapeze was entrusted with the migration of its radio communications system. The existing TETRA radio communications system is to be replaced by Public Mobile Radio for transmitting data and voice. In preparation for the migration, all system components inside the vehicles as well as the displays at stops are to be retrofitted to the standards of the new technology in the coming months.
New operations control system and new on-board computers for Luxtram
Luxtram has decided to procure a Trapeze operations control system and intends to integrate it with the existing operations control system of AVL. Trapeze's offer to Luxtram comprises an operations control system plus the system components required for vehicles and displays at stops.
Luxtram awarded the contract to Trapeze at the end of February 2017. The exact specifications of the functions are currently being defined in the context of the performance specifications phase. But at the same time, work in the areas of infrastructure and vehicles is also already in progress.
Multilingual situation as a challenge
In the Luxtram project, the new multilingual feature of Trapeze is to be applied, since the AVL control workstations are operated in German and those of Luxtram in French. Both authorities use the same operations control infrastructure in the background. Trapeze is capable of satisfying this requirement thanks to the experience it has gathered in other multilingual projects in the Near East and in Singapore.
Tight project schedule
The Luxtram project was launched in March 2017, and the first test trips with the AVLC system are scheduled to take place in July. The first implementation stage of the tramway network is to be completed within a mere few months. The new tramway is then to be officially commissioned in December 2017, just in time for the introduction of the new timetable on 10 December 2017. These new orders allow Trapeze to further consolidate its strong position in Europe at a high level.
About Trapeze
Trapeze is a world-leading supplier of public transport solutions. The companies in the Trapeze Group supply state-of-the-art software, Intelligent Transportation Systems (ITS) and mobile technologies to passenger transportation companies. Hundreds of public and commercial companies in North America, Europe, South Africa and Asia use Trapeze products to increase their efficiency, improve the quality and scope of their services and transport more people at lower costs.
The European headquarters of the Trapeze Group is Trapeze Switzerland GmbH at Neuhausen, Switzerland. The company provides transport authorities, agencies and operators with comprehensive control and information systems that enable better punctuality, shorter journey times and more precise transfers as well as dynamic passenger information and ticketing. With a strong international presence, Trapeze works in close cooperation with its customers to provide high quality control systems, on-board computers, passenger information signs at the stops and in the vehicles, a comprehensive ticketing solution along with a range of other customised services. For more information see www.trapezegroup.com. The Trapeze Group is a member of Constellation Software Inc. (TSX: CSU).