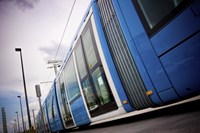 Constellation Software Inc. (CSU.TO) today announced that the Maryland Transit Administration has awarded a significant contract to Trapeze Group, a business unit of Volaris Group Inc., for the provision of an intelligent transportation system (ITS).
The Maryland Transit Administration (MTA) provides subway, light rail, and bus service in the greater Baltimore region and is one of the largest multi-modal transit systems in the United States.
About Volaris Group
Volaris acquires, strengthens and grows vertical market technology companies. As an Operating Group of Constellation Software Inc., Volaris is all about strengthening businesses within the markets they compete and enabling them to grow -- whether that growth comes through organic measures such as new initiatives and product development, day-to-day business, or through complementary acquisitions.
About Constellation
Constellation Software acquires, manages and builds vertical market software businesses.
About Trapeze
Trapeze is a world-leading supplier of public transport solutions. The companies in the Trapeze Group supply state-of-the-art software, Intelligent Transportation Systems (ITS) and mobile technologies to passenger transportation companies. Hundreds of public and commercial companies in North America, Europe, South Africa and Asia use Trapeze products to increase their efficiency, improve the quality and scope of their services and transport more people at lower costs.