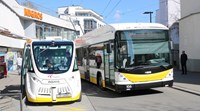 In a landmark event, an autonomous vehicle has begun operating as an integrated part of a public transport authority's operations control system.
The 11-seater, self-driving 'Trapizio' commenced operations in Switzerland on 27 March 2018. Trapizio is integrated in the local transport authority, Verkehrsbetriebe Schaffhausen's (VBSH) operations control system.
The bus from now on will officially travel with normal vehicles through the town centre of Neuhausen am Rheinfall. The general public may also use Trapizio for travel.
"The Schaffhausen shuttle is the first self-driving bus in the world to be integrated in the operations control system of a public transport operator, through which it is monitored together with the regular vehicles of VBSH," explained Dominique Müller, Managing Director of Trapeze subsidiary AMoTech.
Trained VBSH attendants will be stationed on board the autonomous bus during trips. VBSH Director, Bruno Schwager, said,
"They can take control of the bus whenever required through a gamepad, also acting as contacts for passengers."
"This marks the kick-off of our journey towards Stage 5 of autonomous mobility, when ultimately no person will be needed for attendance on board anymore," said Peter Schneck, Chief Executive Officer of Trapeze Switzerland.
Christoph Schärrer, delegate for business promotion of the Canton of Schaffhausen, also welcomed this development: "Schaffhausen is set to develop into a centre of competence for mobility solutions of the future."
This project is one of several Smart City research initiatives by the Swiss Transit Lab. The Swiss Transit Lab is a collaboration between global public transport system specialist Trapeze Group, its affiliated company AMoTech, VBSH and more.
About Trapeze Group
At Trapeze, we strive to enhance lives by building technology for a better tomorrow and providing unique solutions for life.
We help public transport operators and authorities, public safety organisations and large-scale taxi enterprises address everyday pain points, save money and improve customer experience through the use of proven technologies. The eff­iciencies created through our solutions allow you to maximise your competitive advantage and enhance community outcomes.
As the Asia Pacific branch of the Trapeze Group, we have a wealth of knowledge, experience and resources to draw upon both locally and from our colleagues in North America, Europe and the United Kingdom. We are also part of the Constellation Software group, which services over 125,000 customers in more than 100 countries across the globe from offices on every continent.
While our experience is broad and international, we are local in our approach and adapt to your environment country by country. We have been in the transport industry for more than 30 years and have a long history of collaborating with our customers to adapt to changing needs and new demands.