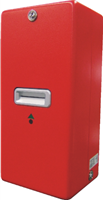 Trapeze-Elgeba has been awarded the contract for more than 1400 IBIS-IP ticket validators for which PostAuto Schweiz AG – the Swiss postal coach services – had invited tenders. The goal of this new procurement of PostAuto Schweiz AG is to team up with a competent development partner in its ISA (Integrated System Architecture) innovation project and to develop a LAN-based linkup of its ticketing terminals on the basis of the new VDV Directive 301. Trapeze-Elgeba is part of Trapeze Group and has accumulated over 45 years of experience in the field of fare management and ticketing.
Who doesn't know the yellow postal coaches or "Postautos" in Switzerland? Day in, day out, they move hundreds of thousands of commuters to work, students to school, housewives to shopping centres and whole families to their holiday destinations. These postal coaches are as much a part of Switzerland as are the holes in Swiss cheese. And this is not surprising, for PostAuto Schweiz AG is Switzerland's leading coach operator and the most important fine distributor in the area of public transport. It serves society with its valuable contribution of providing access to the most remote corners of the country. Its 3900 employees ensure that more than 397,000 commuters and leisure travellers reach their destinations safely and reliably every day using its Postautos. Every year, the roughly 2200 vehicles of PostAuto Schweiz AG move some 145 million passengers.
At the end of October 2015, PostAuto Schweiz AG invited tenders for some 1400 ticket validators. The contract was awarded to Trapeze-Elgeba, a company based in the German town of Bad Honnef that has supplied PostAuto Schweiz AG with dependable and low-maintenance validators before. Trapeze-Elgeba is part of Trapeze Switzerland GmbH, whose European headquarters are located in Neuhausen am Rheinfall.
PostAuto Schweiz AG launched this procurement initiative in the context of an overall project called ISA (Integrated System Architecture). Tenders were invited for the supply of 2500 hardware devices for a new vehicle-based general architecture for ticketing, passenger counting and passenger information plus ticket validation. This equipment is occasionally expected to withstand extreme wear and tear by vibration and differences in altitude and temperature. It must be possible to maintain and exchange defective units within a short time and without much effort. The time requirement for removing, re-installing and testing such devices was to be minimised. The validators to be procured on the basis of this invitation to tender are part of a general system architecture that is to be rolled out over an extended period of time to the entire fleet of vehicles.
For executing the project, PostAuto Schweiz AG chose a multistage procurement process. In a European-wide invitation to tender, Trapeze-Elgeba has now been awarded the contract for equipping pilot vehicles. After an initial rollout, all postal coaches are to be equipped over the subsequent years, as well as vehicles operated by third-party transport companies.
Goal of the project
The aim of the project is to procure new equipment for the future, standardised and streamlined system topography of PostAuto Schweiz AG on the basis of state-of-the-art information technology. The validators of Trapeze-Elgeba are characterised by their rugged and low-maintenance needle printers with punching devices for Swiss multi-trip tickets, linkup and control via IBIS-IP in accordance with VDV Directive 301, and preparation to allow for possible future additions to VDV Directive 301.
Contract awarded to Trapeze-Elgeba
Trapeze-Elgeba was awarded the contract because its offer fully satisfies all the requirements specified. Besides its high efficiency, the company also convinced the customer by the transparency and quality of the tender and the long and successful collaboration up to now. The project was launched in June 2016, and the time required for implementation of the pilot phase is expected to be three months. The entire project period is scheduled to last about three years. This new order enables Trapeze Group to further strengthen its position in the field of fare management systems.
About Trapeze
Trapeze is a leading global provider of solutions in the field of public urban passenger transport. Trapeze Switzerland GmbH in Neuhausen, Switzerland, is the European headquarters of the Trapeze Group. The organisation offers transport companies comprehensive operations control and information systems for higher punctuality of services, shorter trip times and more precise transfers plus dynamic passenger information. Internationally present, Trapeze in close collaboration with its customers develops, produces and integrates high-quality operations control systems, on-board computers, passenger displays at stops and inside vehicles, fare and ticketing solutions as well as customer-specific services. More information can be found at www.trapezegroup.com. Trapeze Group is part of Constellation Software Inc.