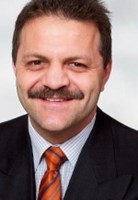 Roland Schneider, an experienced financial expert, is joining the Trapeze Group in Europe effective 1 October 2016. As CFO and Member of the Executive Board of Trapeze Switzerland GmbH, he is taking charge of all financial matters of the Trapeze affiliates in Switzerland, Germany, Poland, the United Kingdom, Saudi Arabia and South Africa.
Roland Schneider, aged 51, has accumulated years of experience in the field of financial management. After completing his studies at the Vocational High School in Zürich and undergoing training in business administration alongside his professional activity, he obtained a degree in 2001 as Executive MBA in Business Engineering from the University of St. Gallen and the University of California, Berkeley. In his new function, he is succeeding Markus Lohrer, who is taking up a new challenge.
During the past three years, Roland Schneider acted as Group CFO with Hermann Bühler AG in Winterthur. This more than 200-year-old company operates two cotton spinning mills (Winterthur and Georgia/USA) and has some 300 employees. Before this, he held various positions in the areas of human resources, financial management and production management. In an international company in the luxury goods industry, he held a leading position in finance, controlling and IT. Moreover, he acted as chief financial officer of a provider of mobility solutions and services, where he gathered experience in passenger transport.
"We are pleased to have found Roland Schneider as a highly qualified and circumspect financial expert for this demanding role. We are convinced that he will contribute significantly to a sound financial structure at Trapeze as well as to our global business," said Peter Schneck, CEO of Trapeze Switzerland GmbH.
About Trapeze
Trapeze is a global leader in providing public urban passenger transport solutions. Trapeze Switzerland GmbH in Neuhausen, Switzerland, is the European headquarters of Trapeze Group. The company offers public transport authorities comprehensive operations control and information systems for improving on-time services, reducing trip times and increasing the accuracy of transfers, as well as dynamic passenger information systems. Internationally present, Trapeze collaborates closely with its customers in developing, producing and integrating high-quality operations control systems, on-vehicle computers, passenger information displays at stops and inside vehicles, fare and ticketing solutions, and customised services.