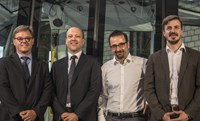 Trapeze, the innovative and leading provider of complete solutions for public passenger transport, and the public transport authority of Schaffhausen (Verkehrsbetriebe Schaffhausen, VBSH) are joining forces to integrate a self-driving bus in a public transport operations control system in Neuhausen am Rheinfall – the first location in Switzerland. In the next few weeks, a trial route is to be travelled by the bus, which later on is to link the town centre with the Rhine Falls – Europe's biggest water fall.
Today's transport industry is focussing on the wide diversity of challenges that fixed route and demand response transport services are posing. However, what ultimately counts for the passenger is only mobility as such, regardless of its specific form. Even today, the term "mobility" summarises different transport modes such as taxi, bus and train. This trend is likely to increase sharply once again when autonomous vehicles are launched, for they provide an answer to the question of the "first and last mile". This means that Trapeze as a provider at the forefront of this development is now ushering in a new era of public transport.
Open-air Lab
Trapeze as a leading technology provider offers comprehensive public passenger transport solutions on a global scale. The company's European headquarters are located in Neuhausen, Switzerland. Trapeze's Intelligent Transport Systems (ITS) now also comprise solutions for autonomous vehicles. Thus – unlike the field trials carried out up to now – it can for the first time ever offer a fully integrated operations control solution in the area of public passenger transport. The tests are to be performed directly on site using the company's own self-driving bus, which can transport 11 persons. The top speed of this electrically powered vehicle is for the time being limited to 25 km/h.
The Trapeze bus does not have any steering wheel. It drives and stops autonomously, without requiring any driver or – soon – any supervisor in attendance. When the bus approaches unexpected obstacles or pedestrians, it stops on its own. The response time of such buses is shorter than that of a human being, thanks to the advanced technology it uses. With the aid of its numerous sensors, it negotiates even narrow passages with astonishing ease.
New player in the transport mix
In a second phase, the autonomous bus is to supplement the transport mix of VBSH in the municipality of Neuhausen am Rheinfall. Tourists can then travel by autonomous vehicle directly to the Rhine Falls, Europe's biggest water fall. Every year, some 1.5 million people visit this attraction. Passengers can board either in the town centre or at the various bus stops along the route. Information points offer passengers real-time information on departures, arrivals and possible transfers. The Institute of Science, Technology and Policy (ISTP) of the Swiss Federal Institute of Technology (ETH) in Zurich is to mentor these autonomous bus operations in Neuhausen am Rheinfall in a study.
"The public transport authority of Schaffhausen considers autonomous vehicles to be more than just a test object," says VBSH Director Bruno Schwager. "In the future, self-driving vehicles are expected to allow routes that to date have never been covered or were unprofitable to now be operated at reasonable cost. This benefits all public transport activities. Autonomous vehicles are an ideal supplement to existing services and do not jeopardise any jobs – quite the opposite is true, for they may even create new ones." In addition, VBSH recently presented its strategy for the complete electrification of its entire fleet of buses – a project that is also unique in Switzerland. In other words, VBSH is gradually morphing from a mere carrier into a true mobility service provider.
Trapeze is at the cutting edge worldwide
Together with VBSH, Trapeze is the first company to integrate an autonomous bus in an operations control system for fixed route transport services. This enables autonomous mobility to be directly linked with public transport services – a potential "first/last mile" concept that is globally unique in the field of public transport. Trials are also to be conducted to determine the suitability of autonomous vehicles or robot taxis for demand response services. In this effort, Trapeze is being supported by a transfer of know-how from one of its long-standing clients, the public transport authority of Zurich (Verkehrsbetriebe Zürich, VBZ). Trapeze is thus underscoring its role as a pioneer in the area of public transport.
Single-source supply
In the absence of a driver inside the vehicle, buying a ticket may become a problem. But even today, Trapeze has a be-in/be-out ticket management solution which eliminates the need for either sales staff or ticket machines. Thanks to its integral focus on convenience and safety of passengers and the environment, the company can offer single-source solutions for public passenger transport services. "We are supporting public transport companies worldwide to enable them to master the challenges and opportunities of present-day and future mobility in the best possible manner," says Trapeze CEO Peter Schneck.
A vision of the future that is now a reality in Schaffhausen
Autonomous vehicles are the key to improving transport services! What is being tested in Neuhausen is expected to have a global impact on the future operation of autonomous passenger transport vehicles. And because self-driving vehicles are a reality for Trapeze even today, the company has launched an independent start-up: AMoTech GmbH – Autonomous Mobility Technology with headquarters in Neuhausen, Switzerland, is supporting and advising public transport companies in their projects involving autonomous vehicles. This has given rise to the development of a centre of competence for autonomous mobility in Neuhausen am Rheinfall, which stands to attract numerous additional players engaged in this field and thus to further promote the technology. "With our Mobility Lab and our self-driving vehicle, AMoTech has joined the global community that is transforming autonomous mobility into a reality and thus helping to solve traffic and public transport problems," says AMoTech Managing Director Dominique Müller.
"This is a great opportunity for Schaffhausen, which can look back on a long tradition in the field of mobility," says business promoter Christoph Schärrer. "The Mobility Lab is developing – and in particular implementing – new technologies for smart mobility and autonomous driving. This is unique throughout the world," says Schärrer. This also applies to the economic strategy of the canton, which is aimed at promoting promising future technologies and businesses with an industrial background. According to Christoph Schärrer, this is also an excellent example of the entrepreneurial spirit prevailing in the Schaffhausen region.
The technology is to be continuously refined and tested over the next few years. Once the public is prepared to accept it, and once it is in place, it is hard to imagine anything that can stop the introduction of autonomous vehicles anymore. For Trapeze and AMoTech, the trip with its autonomous bus starts in early July 2017– and the company is on board at an early stage, fully in line with its motto "Here for the Journey". More information on the latest developments can be found at www.amotech.ch.
About Trapeze
Trapeze is a world-leading supplier of public transport solutions. The companies in the Trapeze Group supply state-of-the-art software, Intelligent Transportation Systems (ITS) and mobile technologies to passenger transportation companies. Hundreds of public and commercial companies in North America, Europe, South Africa and Asia use Trapeze products to increase their efficiency, improve the quality and scope of their services and transport more people at lower costs.