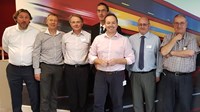 Trapeze Group has launched a collaborative 'Special Interest Group' (SIG) to develop a next-generation scheduling solution for the bus market. The group has been joined by 10 scheduling experts from five major UK bus operators – amassing some 300 years of scheduling expertise between them.
The group is meeting regularly to collaborate on the specification and design of Trapeze's upcoming scheduling solution, Novus-SchedulePlus. It is chaired by Trapeze Scheduling Solutions Manager, Gavin John – himself a scheduler of some 20 years' experience.
Commenting at the group's second meeting, Mr John said: "Efficient scheduling cannot be undertaken by a computer alone. As a group we are committed to developing a technology solution which actively supports bus schedulers, helping them to do their essential work as effectively as possible. We are also invested in developing a technology solution which ensures a strong future for the schedulers of tomorrow."
Sam Greaves, Head of Service Delivery at Tower Transit Operations Ltd, commented: "Trapeze's Scheduling Special Interest Group has been an invaluable process. Myself and the other participants are working together to help Trapeze design a genuinely transformational scheduling solution."
James Grashoff, General Manager of Trapeze Group in the UK, added: "Novus-SchedulePlus is a vital solution for the bus market in the UK and beyond. We are committed to helping schedulers to work more efficiently, and to produce schedules that save bus operators money."
About Trapeze Group
Trapeze delivers solutions that consider the full 360 degrees of passenger transport. Whether addressing the needs of a single department, an entire organisation, or the community, Trapeze provides some of the most advanced software, intelligent transportation systems and mobile technologies in the industry. Hundreds of government and commercial organisations across Europe, North America and Asia Pacific have turned to Trapeze to realise efficiencies, enhance the quality and scope of their services, and safely transport more people with less cost.