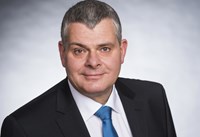 Siegmar Deuring, who holds a degree in business information technology, is to join the Trapeze Group in Europe effective 1 March 2016 to strengthen the organisation. As Director Business Unit DACH and Member of the Company Management of Trapeze Switzerland GmbH, he will take charge of the entire business of selling systems for operations control, passenger information and fare management in the German-speaking region of Europe plus Luxembourg and Poland.
Siegmar Deuring has gathered vast experience in the passenger transport industry and has a very sound understanding of the development and marketing of complex software and hardware solutions. In this function, he succeeds René Schümmer, who plans to take up a new challenge.
In the past years, Siegmar Deuring acted as Managing Director of Atron systems AG, Switzerland, where he gathered broad experience and an in-depth understanding of the public transport industry. "We are pleased to have found Siegmar Deuring as a competent and dynamic successor to fill this demanding position. We are convinced that he can make a significant contribution to the further development of Trapeze and our business in the German-speaking regions of Europe," says Peter Schneck, CEO of Trapeze Europe.
About Trapeze
Trapeze is a leading global provider of solutions in the field of public urban passenger transport. Trapeze Switzerland GmbH in Neuhausen, Switzerland, is the European headquarters of the Trapeze Group. The organisation offers transport companies comprehensive operations control and information systems for higher punctuality of services, shorter trip times and more precise transfers plus dynamic passenger information. Internationally present, Trapeze in close collaboration with its customers develops, produces and integrates high-quality operations control systems, on-board computers, passenger displays at stops and inside vehicles, fare and ticketing solutions as well as customer-specific services. More information can be found at www.trapezegroup.com. Trapeze Group is part of Constellation Software Inc.
Caption: From 1 March 2016, Siegmar Deuring strengthens the Trapeze Group in Europe. He becomes Director Business Unit DACH and member of the member of senior management of Trapeze Switzerland GmbH. (Photo: Ulrike Sommer)