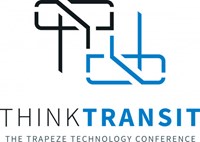 Trapeze Group is delighted to announce the transit agency co-host for their annual ThinkTransit Conference is Sun Tran, the transit agency for Tucson, Arizona. By partnering with local agencies, the 500+ transit professionals who attend ThinkTransit get an inside-look at how Sun Tran and Trapeze Group are dealing with new challenges and using cutting-edge transit technology to increase ridership, improve on-time performance, and enhance the customer experience.
Transit is undergoing a radical transformation worldwide, which means, while transit leaders are focused on reducing costs and delivering great service, they're also pressed to assess new challenges such as:
The rise of Mobility as a Service (MaaS)
How artificial intelligence can assess data to make intelligent decisions
New regulations related to Positive Train Control and safety management
Mobility as a Service (MaaS) has been center stage in the minds of transit leaders for the past several years. MaaS is hailed to be the answer to mobility, providing alternatives to owning and driving cars, and a key contributor to improving the transit passenger's customer experience. 
"We couldn't be more delighted to co-host our conference with Sun Tran, a long-time customer and example of what it means to be a forward-thinking agency devoted to improving transit," said Steve Sawyer, General Manager, Trapeze Group North America. "Together with Sun Tran, we will focus our conference on the issues that are top-of-mind for today's transit agencies – such as who do I work with to deliver on the promise of MaaS? We want to be that partner they turn to for answers."
Trapeze Group's annual conference helps transit agencies deal with these pressing challenges and more. The event brings together over 500 transit professionals across North America for hands-on training, technical tours showcasing the host agency's latest technologies, and inspiring speakers on the future of transit and how to deal with the unprecedented changes in transit.
The conference takes place April 19-22, 2020 at the JW Marriott Starr Pass Hotel in Tucson, Arizona.
"Sun Tran has been collaborating with Trapeze for over 20 years and is excited to have the conference in Tucson," said Steve Spade, General Manager for Sun Tran. "The Trapeze products have been vital in our day-to-day operations and planning, and the conference allows us to share our knowledge of Trapeze products for the three modes of transportation – bus, rail and paratransit service."
Every year, Trapeze Group announces new technologies and partnerships at the conference. At the 2018 ThinkTransit Conference, Trapeze announced a partnership with Microsoft Azure to provide fully-managed, cloud-based services to its transit customers; as well as the launch of Trapeze autonomous vehicles. At the 2019 Conference this past April, Trapeze announced the launch of various new initiatives and solicited customer feedback on the new ideas such as a new safety management system.
About Trapeze Group
Trapeze Group works with public transit agencies and their communities to develop and deliver smarter, more effective public transit solutions. For more than 25 years we have been "here for the journey," evolving with our public transport customers around the world helping them to move people from point A to Z and everywhere in between.