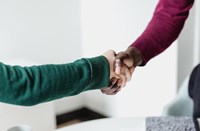 With engaging customer sessions, dynamic keynotes and a future-forward outlook, the ThinkTransit conference is the best place to recognize the amazing work that transit agencies and individuals are doing to advance the industry.
As such, the ThinkTransit Awards of Excellence are reserved for transit agencies that prove they are the crème de la crème. TransLink, Oahu Transit Services, Central Ohio Transit Authority (COTA), Edmonton Transit Service, and Hamilton Street Railway (HSR) took home the ThinkTransit Award of Excellence in their respective categories.
TransLink received the Award of Excellence in the Advancement category as a recognition of the agency's innovative approaches that are pushing the transit industry's boundaries. Working with a cross-Canada student body, TransLink worked to break the norms in how information is delivered to passengers. Their unique and collaborative approach to this 2017 project serves as a great example of what can be accomplished with imagination, collaboration, and determination.
The Award of Excellence in the coveted Innovation category, is presented to the agency that is thinking differently about how the public rides transit. Oahu Transit Services was a clear stand out for this Award of Excellence. The agency partnered with Trapeze Group to develop a working Headway Management system within the TransitMaster product. "We've been running it now on our buses for approximately a month and a half and the drivers and dispatchers are really pleased with the progress we have made. We're honored to accept this award on behalf of the whole transit system from Oahu," remarked Ralph Faufata, Vice President of Transportation, Oahu Transit Services.
Of course, innovation and advancement are not achieved in silos, which is why an Award of Excellence is presented to that agency working side by side with Trapeze. COTA received the Award of Excellence, Alliance, as recognition of their strong partnership with Trapeze Group. Together, the two organizations continuously push each other to be better, drive to exceed expectations of each other, and of what is delivered to passengers.
If the transit industry is to advance and meet the demands of its passengers, it is critical as a community that information and experiences are shared. Stuart Gerber, from Edmonton Transit Service, received the Award of Excellence focused on Community Building for actively demonstrating leadership by fostering a consistent flow of information, leading discussions, and asking thoughtful questions on Collaborate – the Trapeze customer community.
A 2018 APTA AdWheel Award Winner for Best Educational Special Event, the ThinkTransit conference has become a forum for engaging discussion and diving deep into current issues. This year, one session stood out from the rest for those delegates who voted for the Best Live ThinkTransit Session, entitled How HSR is Tackling Rising Customer Expectations in this Information-Hungry Generation. Trapeze congratulates Dennis Guy, Manager of Customer Experience and Innovation at Hamilton Street Railway, for winning this Award of Excellence. Dennis says, "Being fairly new to the transit industry, it was a worthwhile investment to attend the 2018 ThinkTransit Conference. It was a nice surprise to win the Best Live ThinkTransit Session award and I'd like to thank all those who voted for it. I hope my session will help others to tackle increasing customer demand for in-the-moment information, while delivering a seamless transit experience."
Together, these Trapeze customers represent the best of the best in their respective categories. It is an honor and a privilege to work with them every day to make a meaningful impact on the North American transit industry and the passengers who rely on it.
About Trapeze
Trapeze's passion is enabling them to meet your goals. They create, deliver and support software solutions and services that make it easier for transportation agencies to manage their complex, day-to-day business operations. Trapeze has the unique ability to partner with you for the full 360 degrees of your operations due to their focus on serving the transportation industry with a broad product portfolio.