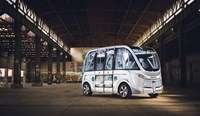 Trapeze, the innovative leader in the supply of complete public transport solutions, has established a new affiliate called AMoTech in the Swiss town of Neuhausen. This start-up is dedicated to research in the field of autonomous mobility and is now setting up a centre of competence for this purpose.
What ultimately counts for passengers is mobility as such, regardless of its specific form. Even today, different modes of transport such as taxi, bus or train are summarised under the keyword "mobility". Self-driving vehicles enable additional public transport services to be operated profitably. AMoTech plans to develop these innovative services in collaboration with selected partners and to implement them in a transport control system. One of the questions that autonomous vehicles provide an answer to is that of the "first and last mile". In other words, Trapeze is now ushering in a new era in the field of public transport.
PT Lab strikes out towards the future
In a number of projects, various trend-setting scenarios are to be explored together with public transport companies and other partners. On-site tests are to be conducted using a proprietary self-driving bus supplied by the French manufacturer Navya. Trapeze and AMoTech are now also integrating solutions for self-driving vehicles in their smart transport systems and thus – in contrast to the field trials performed to date – for the first time ever offering their full integration in a public transport control system. Tests are also to be conducted to establish the suitability of autonomous vehicles or robot taxis for demand-response transport services. In addition to real-time passenger information, an important role is also to be played by fare management. Even today, Trapeze can offer a Be-in/Be-out ticketing solution that requires neither sales staff nor ticket vending machines.
A real vision for the future
Autonomous vehicles are key to improving transport services – and this not in the far future, but even today! The tests performed and the development efforts being made in Neuhausen are expected to meet with global response, for they are likely to substantially influence the future operation of self-driving vehicles in the area of passenger transport. Autonomous mobility experts from all corners of the world, transport ministries, urban and transport planners, transport associations and companies, politicians, professors and students can now gain in-depth insights into this area in Neuhausen. Tests and research efforts are expected to start soon, but autonomous vehicles are a reality for Trapeze – even now!
About Trapeze
Trapeze is a world-leading supplier of public transport solutions. The companies in the Trapeze Group supply state-of-the-art software, Intelligent Transportation Systems (ITS) and mobile technologies to passenger transportation companies. Hundreds of public and commercial companies in North America, Europe, South Africa and Asia use Trapeze products to increase their efficiency, improve the quality and scope of their services and transport more people at lower costs.
The European headquarters of the Trapeze Group is Trapeze Switzerland GmbH at Neuhausen, Switzerland. The company provides transport authorities, agencies and operators with comprehensive control and information systems that enable better punctuality, shorter journey times and more precise transfers as well as dynamic passenger information and ticketing. With a strong international presence, Trapeze works in close cooperation with its customers to provide high quality control systems, on-board computers, passenger information signs at the stops and in the vehicles, a comprehensive ticketing solution along with a range of other customised services. For more information see www.trapezegroup.com. The Trapeze Group is a member of Constellation Software Inc. (TSX: CSU).