Have ticketing solutions in the bus sector failed to reach their full potential? Comparisons with the rail sector suggest so. We believe the true potential of ticketing will only be realised once we deliver what the passengers actually want: a single unified travel tool incorporating journey planning, real-time data, disruption management and ticketing.
Thus armed, passengers will be empowered to confidently assess their travel options and immediately act upon them. We believe technology can now make this a reality and will be showing how at this year's Transport Ticketing Global conference in London. Find us there on 27 & 28 January – we'd be delighted to share our vision with you.
About Trapeze Group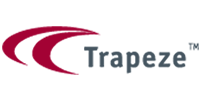 Trapeze Group is a world-leading supplier of comprehensive public transport solutions. Its planning, operating, passenger information and ticketing systems enable hundreds of public and private organisations around the world to enhance the efficiency and quality of their operating processes, to extend their range of services and to move people faster and more safely to their destination. Our products support fixed route, demand response and ad-hoc transport and are applied for road and well as rail-borne vehicles.