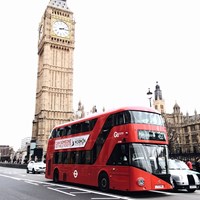 Trapeze Group has been awarded the contract to deliver the first project of TfL's Future Bus System (FBS) programme for a new technology solution that manages the capital's bus routes and schedule data, enabling efficient management of disruption and service changes, and providing an online portal for managing communication with bus operators.
Trapeze's NOVUS system, a proven bus schedule data management solution that already supports many Combined Authorities and Local Authorities across the UK has been chosen.
Speaking at an event to formally launch the Future Bus Systems project, Tim Porter, CEO for Trapeze Group in the UK, commented: "We are proud to have won this contract to support London's iconic bus network, and are excited to have the opportunity to further improve delivery of services for the travelling public of London."
"This project has extra significance in light of the Bus Services Act, which places specific focus on passenger information in the event of travel disruption. Combined and Local Authorities stand to benefit from Future Bus, as the technology investment in NOVUS moves the entire bus industry forwards in exciting new ways."
Simon Reed, Head of Technology & Data for Surface Transport, said "FBS is a vital investment in our core bus management systems and this will provide a single modern repository of key service information that will be central to our planning, operational and ticketing systems."
Trapeze's NOVUS system will allow TfL to simplify its systems and data processes in managing routes and schedules for its 670 bus routes, 9,200 buses, 19,000 bus stops and the capture of more than 12,000 network affecting events each year.
About Trapeze Group
From the bus stop to the finance department, Trapeze technology is the glue that binds a transportation agency together. We are dedicated to helping you streamline and integrate your many day to day functions. Enabling you to focus on your #1 goal, providing amazing customer service!