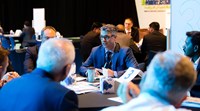 The Industrial Internet of Things (IIoT) has the potential to drastically change your maintenance operations, improve asset efficiency and help you make smarter investment planning decisions.
The industrial version of the more consumer-centric IoT concept, IIoT has been around for a long time but has not seen widespread adoption in the rail industry.
In this SmartRail World article, our Trapeze rail industry expert Marcelo Bravo writes about how Denver Transit Operators (DTO) has successfully leveraged IIoT technology to incorporate asset sensors into their network and Enterprise Asset Management (EAM) system.
DTO's SCADA system sends automated asset failure alerts to their EAM system, where actions are generated and maintenance staff automatically informed. This IIoT / EAM combo works in synergy to support true condition-based maintenance, minimising service interruptions and allowing DTO to resolve problems before any asset actually fails.
If you're interested in IIoT and EAM, you might also like Marcelo Bravo's presentation at Middle East Rail.
Originally published by SmartRail World: https://www.smartrailworld.com/expert-view-maximizing-the-potential-of-enterprise-asset-management-eam-through-iiot
About Trapeze Group
Trapeze Group's passion is enabling you to meet your goals. They create, deliver and support software solutions and services that make it easier for transportation agencies to manage their complex, day-to-day business operations. They have the unique ability to partner with you for the full 360 degrees of your operations due to our focus on serving the transportation industry with a broad product portfolio.
From the bus stop to the finance department, Trapeze technology is the glue that binds a transportation agency together. They are dedicated to helping you streamline and integrate your many day to day functions. Enabling you to focus on your #1 goal, providing amazing customer service!
Their team gets what you do. The reason why? Is because they have been in your shoes! Many Trapeze employees have been in the transportation business for decades! They know what your pain points are and are passionate about helping you eliminate them and meet your goals, as well as those of your board members.
With their passion and knowledge, they are excited to partner with you to maximize the value of your systems for the long term.