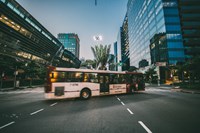 Trapeze Group (UK) has released a new software solution to support bus depot duty allocators by automating the bulk of 'forward' duty allocation work. The solution delivers optimised pre-processing allocations, enabling duty allocators to prioritise time for creating duties that deliver greater operational efficiency and consistent allocation in accordance with the bus operator's agreed working practices.
The new product, called Auto Allocation, is an enhancement to Trapeze's existing Duty Allocation System, which manages duties and driver payment at most of the UK's major bus operators. Auto Allocation has been successfully tested at one UK bus operator, and is now available for implementation at bus depots across the country and beyond.
Speaking at the solution launch, Tim Porter, Executive Director with Trapeze Group in the UK, commented: "Auto Allocation is an extremely exciting development which helps Trapeze's bus company customers to continue to deliver services as efficiently and affordably as possible. It helps allocators to spend more of their time tuning duties for even greater efficiency, and automatically ensures compliance with their organisation's working practices."
Product Director Tony Gosling added: "Auto Allocation continues Trapeze's goal of aligning technology with industry expertise, developing tools that empower the bus sector's heroes – in this instance, duty allocators – to deliver even greater benefit to their organisations."
About Trapeze Group
Trapeze delivers solutions that consider the full 360 degrees of passenger transport. Whether addressing the needs of a single department, an entire organisation, or the community, Trapeze provides some of the most advanced software, intelligent transportation systems and mobile technologies in the industry. Hundreds of commercial and government organisations across Europe, North America and Asia Pacific have turned to Trapeze to realise efficiencies, enhance the quality and scope of their services, and safely transport more people with less cost.