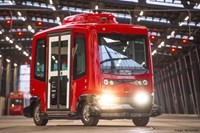 The Trapeze affiliate AMoTech with headquarters in Neuhausen am Rheinfall, Switzerland, offers a solution enabling self-driving vehicles to be integrated in operations control systems. This allows public transport companies to monitor and dispatch self-driving vehicles together with the other vehicles in their fleets. In the Swiss capital of Berne, a self-driving vehicle is scheduled to enter service with this solution in the spring of 2019.
Over the next three months or so, the public transport authority of Berne (Bernmobil) is to test the vehicle it has received from the French manufacturer EasyMile on the premises of its tram depot on Bolligenstrasse. On a test route without passenger transport, it plans to test not only the vehicle itself, but also its integration by AMoTech in the operations control system supplied by Trapeze. This system is used by the dispatchers of Bernmobil for monitoring and coordinating its entire fleet of busses and trams – and in the future also the automated vehicle. Once the official approval process has been completed, the vehicle is expected to enter service on public streets in the spring of 2019. "We are highly satisfied with the execution of the integration project for our EasyMile vehicle in the LIO operations control software of the Trapeze subsidiary AMoTech. We look forward to continuing our constructive collaboration in the further integration steps," says Bernhard Riegel, Project Manager Self-driving Vehicles, Bernmobil. The public transport authority of Berne (Bernmobil) has been a loyal customer of Trapeze Switzerland GmbH for many years. The company uses numerous Trapeze products and is now embarking on the road to future mobility by applying this latest solution.
The Trapeze subsidiary AMoTech has implemented the module for integration of self-driving vehicles in the Trapeze fixed route operations control system and is refining it continuously. It currently allows self-driving vehicles from the manufacturers EasyMile and Navya to be integrated. Besides, development activities are also in progress with additional manufacturers whose vehicles are to be launched shortly. AMoTech GmbH is a completely owned subsidiary of Trapeze Switzerland GmbH. It integrates self-driving vehicles in existing operations control systems and supports cities and public transport operators in implementing their autonomous mobility projects."The enormous interest in our solutions and services has exceeded our highest expectations. We have even had to reject various enquiries just to maintain our sharp focus on developing the required software," says Dominique Müller, Managing Director of AMoTech GmbH, happily. With its "Route 12" project in Neuhausen am Rheinfall, AMoTech integrated the world's first self-driving vehicle in the fixed route services of a public transport operator – the public transport authority of Schaffhausen.
About Trapeze
Trapeze provides intelligent transport systems and software solutions for the public transport sector, as well as for demand response and special student transport. Our solutions ensure that public transport runs smoothly in both urban and rural areas – in countryside towns and villages, as well as in regional and global cities, working in multi-agency situations and for all sizes of transport organisations.