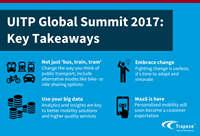 The two-yearly UITP Summit is considered one of the most important events in the world of Public Transport worldwide. The congress and exhibition took place in the Canadian city of Montreal from 15-17 May 2017. More than 2'500 companies from 84 nations came together, Trapeze presented itself at an exhibition stand as well as in two presentations. Trapeze Australia organized a 5-day study trip in the course of the event. For those who could not be there, briefly summarized what was said, what happened, and who participated by Mel Pecen, Trapeze Managing Director for Australia & New Zealand.
Think beyond buses and trains
A big takeaway for me was that public transport isn't just buses, trains and trams. It includes bike-sharing, car-sharing and on-demand services. Commuters consider public transport usage in the context of these other modes, and that means the way we think needs to change too.
There were some great conversations about the fast-changing nature of public transport around the globe. A trend of decreasing ridership in North America was noted; some perceive this to be due to the availability and affordability of car-sharing options, but it could also be correlated to falling capital expenditure and a failure to renew public transport assets as passenger numbers in South America, Asia and Europe have risen.
One thing was very clear to me: Technology is the key enabler for public transport to succeed.
Speakers called for truly multimodal technology that can knit together buses, trains, trams and ferries as well as car-sharing and bike-sharing options for the user's consumption.
Leading transport agencies are becoming data-driven organisations, analysing big data (such as operational, ticketing and passenger information) to create higher quality services and better mobility solutions.
Seamless ticketing solutions and electric buses were also mentioned as other necessities to increase the appeal of public transport to commuters via increased convenience or green sentiments.
Dominant themes
Embrace change or be left behind
Right from the opening session, the message was clear. The rapid changes in technology are heralding a world of change for public transport. The revolution is here and we, as an industry, must adapt quickly.
There was still some 'Uber is evil' feeling here and there but on the whole, the sentiment was that we should focus on figuring out how to work with or alongside these new players to provide even better services for passengers – "let's work out how we can complement instead of compete with each other".
Big data will show us the way to better public transport
Big data and digitisation dominated discussions. There was talk of combining the data already being collected by real-time passenger information (RTPI) and ticketing systems with other data on the weather, events and so on to build scenarios and develop better mobility solutions for people.
Transport for London seems to be leading the way, with a Chief Data Officer and a team of data scientists and analysts to mine vast amounts of operational data. They use the insights generated to develop better transport solutions for their customers. (Bus operators – click here to read our eBook on how to turn your data into insights.)
Multimodal transport and MaaS are here
No longer just a buzzword, Mobility as a Service has arrived. With pilot programs running in Helsinki, Paris, Las Vegas and Singapore, personalised mobility is anticipated to go from being a nice-to-have novelty to a consumer expectation in the near future.
Some of the delegates we spoke to were looking for a complete multimodal solution that coordinates not just the traditional modes but also alternatives like bike-sharing and car-sharing. A few of our clients expressed significant interest in ride-sharing applications as a cost-effective alternative to scheduled buses or as part of a first/last mile solution.
Conclusion
With a theme like 'Leading the TRANSITion', it was clear that the focus of the Global Summit was going to be change. Times are definitely changing for the public transport industry and we need to find ways to stay relevant and continue providing vital services to the community in the face of a rapidly evolving technological landscape. The next UITP Summit will be held in Stockholm, Sweden from 9-12 June 2019 – I would highly recommend that you attend.
On a more personal note, it was fantastic meeting our customers from Transport for London, Public Transport Victoria, Auckland Transport, Transport for New South Wales, Go Bus, the ACT government and Tower Transit in Montreal. I highly valued your feedback and insights into your local markets and look forward to seeing you again – perhaps in Sweden!
About Trapeze
Trapeze is a world-leading supplier of public transport solutions. The companies in the Trapeze Group supply state-of-the-art software, Intelligent Transportation Systems (ITS) and mobile technologies to passenger transportation companies. Hundreds of public and commercial companies in North America, Europe, South Africa and Asia use Trapeze products to increase their efficiency, improve the quality and scope of their services and transport more people at lower costs.
The European headquarters of the Trapeze Group is Trapeze Switzerland GmbH at Neuhausen, Switzerland. The company provides transport authorities, agencies and operators with comprehensive control and information systems that enable better punctuality, shorter journey times and more precise transfers as well as dynamic passenger information and ticketing. With a strong international presence, Trapeze works in close cooperation with its customers to provide high quality control systems, on-board computers, passenger information signs at the stops and in the vehicles, a comprehensive ticketing solution along with a range of other customised services. For more information see www.trapezegroup.com. The Trapeze Group is a member of Constellation Software Inc. (TSX: CSU).