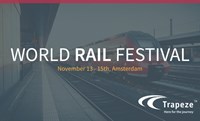 Are you attending this year's World Rail Festival on 14th to 15th of November in Amsterdam? We hope you are and we would like to invite you to visit us at our stand (stand #20).
As you probably know, the World Rail Festival is one of the most rewarding events for rail operators.
During this year's festival, there will be discussions on such topics as digital transformation strategies for the world's rail operators, understanding the next generation of mobile ticketing technology, improving the rail passenger experience at every touch-point and many others.
Being one of the leading software providers for the rail industry, we take a great interest in recent developments and innovations.
As an exhibitor at the festival, we offer you an opportunity to have a discussion with us about the latest innovations within rail planning and operations solutions.
A key focus area for many of our customers is optimisation technology to improve planning, minimise operational costs and increase passenger and employee satisfaction. We are also investing in solutions for context aware disruption recovery, which will provide rail undertakings with transparent decision support for faster recovery and reduced impact on resources. Come by to discuss these or other challenges with us. We would appreciate the opportunity to have a chat.
Curious to know more about the World Rail Festival? Take a look at what participants say about their experience from previous years.
Please let us know if you have any questions regarding the event, or would like to meet us at our stand.
About Trapeze
Trapeze is a world-leading supplier of public transport solutions. The companies in the Trapeze Group supply state-of-the-art software, Intelligent Transportation Systems (ITS) and mobile technologies to passenger transportation companies. Hundreds of public and commercial companies in North America, Europe, South Africa and Asia use Trapeze products to increase their efficiency, improve the quality and scope of their services and transport more people safely at lower costs.

The European headquarters of the Trapeze Group is Trapeze Switzerland GmbH at Neuhausen, Switzerland. The company provides transport authorities with comprehensive operations control and information systems for better punctuality, shorter journey times and more precise connections as well as dynamic passenger information. With a strong international presence, Trapeze works in close cooperation with its customers to provide top quality operations control systems and on-board computers for normally steered and also autonomous vehicles, passenger information signs at the stops and in the vehicles along with a range of other custom services. The Trapeze Group is a member of Constellation Software Inc. (TSX: CSU).