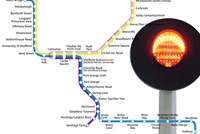 The project includes the electrification of the line between Sheffield and Rotherham to 750 V, new tram-train platforms at Rotherham Central and Parkgate, re-profiling of the Supertram network and the construction of the Tinsley Chord – a 160-metre section of track linking the light rail network to the main line network.
New dual voltage tram-train vehicles have been sourced from Vossloh and are able to operate under both the 750 V Supertram catenary and the standard 25 kV used on the national rail network. Unlike a typical tram, the new vehicles also feature main line signalling and protection systems, such as TPWS and GSM-R.
Unipart Dorman has been working with Carillion and have supplied 5 iLS (integrated Lightweight Signals) to the network. This represents a key milestone for Unipart Dorman as this is the first installation of our iLS on a 'light railway network'.
By selecting the iLS the Sheffield SuperTram Network will share the same benefits as the mainline network, where our highly reliable LED signals have delivered over 48million fault free operational hours over the last decade.
Network Rail has also recently declared our iLS self cleaning, thus generating further savings which the Sheffield SuperTram Network will also benefit from. The iLS can be installed in as little as 20 minutes, generating further essential installation time savings.
LED signals from Unipart Dorman are designed with safety in mind. The combination of time saved during installation and the fact that they are maintenance free, plays a major role in increasing worker safety.
About Unipart Rail
Unipart Rail is a supply partner to some of the world's best-known names. Our partners know us to be expert in the services we provide – giving them the confidence to pursue their business objectives, while we support them with bespoke solutions.
As our solutions are drawn from a portfolio of skills, delivered by over 800 expert practitioners in their fields, we craft unique services that dovetail perfectly with our customers. As part of the Unipart Group, with a turnover of £1bn, we support a large number of clients from blue chip companies to specialist suppliers.
And as we also have a strong set of principles that underpin our business – covering safety, corporate responsibility, employee engagement, and our unique Unipart Way, you can be confident that you are partnering with a business that has an ethical approach to serving the world's railways.
When our customers need the best, they come to the best – Unipart Rail. And with expertise across both Infrastructure and Traction & Rolling Stock we have a holistic approach to the railway.
About Unipart Dorman
Unipart Dorman is a leading UK manufacturer of LED solutions for traffic control and its name is recognised globally for quality and innovation in signalling and hazard warning lighting technology.