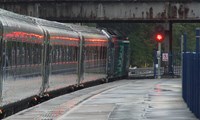 Unipart Dorman is proud to have played a significant part in the huge success that Siemens Rail Automotive made of the recent Banbury Resignalling Programme. Unipart Dorman design and commercial teams have worked closely with Siemens throughout the three and half year design and delivery process which culminated in delivery of the project ahead of schedule.
The Unipart Dorman team has supported this vital project in more ways than simply delivering signals. Going the extra mile by working closely with the design team during the initial phases and then scheduling delivery windows based on customer need, to get the right equipment to the right place at the right time. This allowed the project to maximise efficiency through careful planning and deployment which not only saves money but also minimises the disruption to train operations on one of the busiest areas in the region.
Product training was provided to installers, testers and maintainers in the form of Integrated Lightweight Signal (iLS) Overview and Practical Demonstration events held at the depot in Banbury and these events have since been adopted by other Siemens projects.
Feedback from Banbury was instrumental in the design and development of the Unipart Dorman Assisted Lift Trunnion and the project was the launch customer for this new and innovative method of mounting both iLS and CLS LITE/conventional signals. It removes the need for any form of post lifting equipment, can be sighted from ground level, doesn't rely on external spring units and does not need any specialist equipment to install – four 'must haves' which were generated by customer feedback sessions.
More than 50 new LED signals have been installed as part of the project which are now delivering a highly reliable, zero maintenance information to train drivers. The introduction of predominantly four-aspect, signal sections between Banbury and Aynho Junction and three-aspect signal sections between Heyford and Aynho have enabled a much improved greater throughput of services in the area greatly enhancing the customer experience.
The success of the Banbury project proves that Unipart Dorman does more than just 'sell signals'. We support our customers from the first stages of design right through to handback of the completed project and beyond. Our innovative design capability consistently develops and introduces cutting edge products to the market based on customer need and our UK based manufacturing capacity ensures we can meet even the most stringent delivery challenges.
About Unipart Rail
Unipart Rail is a supply partner to some of the world's best-known names. Our partners know us to be expert in the services we provide – giving them the confidence to pursue their business objectives, while we support them with bespoke solutions.
As our solutions are drawn from a portfolio of skills, delivered by over 800 expert practitioners in their fields, we craft unique services that dovetail perfectly with our customers. As part of the Unipart Group, with a turnover of £1bn, we support a large number of clients from blue chip companies to specialist suppliers.