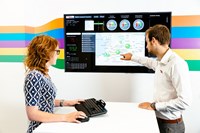 Unipart Rail's Traction and Rolling Stock (T&RS) division has become one of the first companies in the rail industry to gain the exacting quality management standard ISO9001:2015. The new Standard requires a completely different approach to quality assurance which is based on an understanding of the market, risk and opportunity management and leadership. Unipart Rail, who are based in Doncaster, were able to demonstrate many excellent processes and tangible evidence of these practices in order to gain the certification.
All areas of the business were audited by Lloyds Register Quality Assurance (LRQA) that are involved in the provision of material management, logistics and associated services for traction and rolling stock components and consumables and the design and development of these components. The operation of the business processes and how they interface with each other was a key component in the assessment of Unipart Rail to ensure that the requirements of the Standard translate into actions that add value to the organisation and for stakeholders.
About Unipart Rail
Unipart Rail is a supply partner to some of the world's best-known names. Our partners know us to be expert in the services we provide – giving them the confidence to pursue their business objectives, while we support them with bespoke solutions.
As our solutions are drawn from a portfolio of skills, delivered by over 800 expert practitioners in their fields, we craft unique services that dovetail perfectly with our customers. As part of the Unipart Group, with a turnover of £1bn, we support a large number of clients from blue chip companies to specialist suppliers.