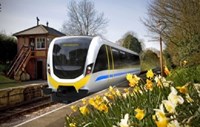 Unipart Rail are one of the leaders of the consortium of companies and research establishments that have developed the initial designs for a Very Light Rail (VLR) train that will cost 50% of traditional passenger vehicles. The train will have a unique self-powered bogie with an integral, hybrid propulsion and kinetic energy recovery system to make it able to run independent of overhead electrical cabling to add to the flexibility of potential applications of the new VLR train concept.
Unipart Rail's involvement is to bring its engineering expertise and management of rolling stock supply chains experience to the project, both of which will be integral to the delivery of the VLR train development into service.
The consortium is supported by WMG (University of Warwick) who have pioneering experience in the light-weighting of automotive body structures for OEMs such as Jaguar Land Rover; TDI who are specialists in transport vehicle designs and testing and Prose AG who are a specialist bogie engineering company. Key technology providers include: Cummins, Magnomatics, Magtec, Unipart Powertrain Applications and LUR who operate one of the largest bogie overhaul centres in Europe.
The VLR project is anticipated to have a prototype train available in late 2018 for technical evaluation and testing.
About Unipart Rail
Unipart Rail is a supply partner to some of the world's best-known names. Our partners know us to be expert in the services we provide – giving them the confidence to pursue their business objectives, while we support them with bespoke solutions.
As our solutions are drawn from a portfolio of skills, delivered by over 800 expert practitioners in their fields, we craft unique services that dovetail perfectly with our customers. As part of the Unipart Group, with a turnover of £1bn, we support a large number of clients from blue chip companies to specialist suppliers.