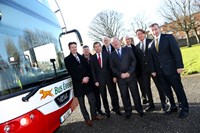 VDL Bus & Coach is currently delivering 27 VDL Synergy double deck commuter coaches to Bus Éireann – Ireland's largest national bus and coach network. These deluxe double deck coaches are part of a very significant investment in Bus Éireann's fleet by the National Transport Authority in Ireland, to fund a reliable and comfortable new fleet of the future.
The VDL Synergys were officially delivered by VDL Bus & Coach in the presence of Mr P.W.A. Schellekens, Netherlands Ambassador to Ireland, on January 15 last, as part of Bus Éireann's official launch of their new fleet.
Bus Éireann's Chief Mechanical Engineer, Joe Neiland said the VDL fleet proved a very good choice: ''These coaches were included in our new fleet purchase due to the excellent fuel economy, reliability and optimal comfort they provide".
The VDL Synergy double deck coaches will be used for commuter services in the Greater Dublin Area.
Synergy SDD-141
The VDL Synergy luxury double deck coaches supplied to Bus Éireann are the 14.1 metre version build on a VDL SBR-4000 chassis, powered by a DAF MX-13 375 Euro 6 engine through a ZF AS Tronic automatic gearbox equipped with the Advanced Emergency Braking System (AEBS) and Lane Departure Warning System (LDWS). They have excellent wheelchair access through the mid door by means of a manual folding ramp. The Synergy's are also equipped with destination equipment, a payment table, a ticket machine, a full CCTV system, WIFI, 220 Volt power sockets, USB power sockets and comfortable leather trimmed seating.
About Bus Éireann
Bus Éireann is the Irish national coach and bus company, and last year recorded over 81 million passenger journeys. The company is a significant contributor to the Irish economy, employing almost 10,000 people directly and indirectly across Ireland, including approximately 1,200 staff drivers. The company operates a fleet of in the region of 1,000 vehicles.
About VDL Bus & Coach
The core activities of VDL Bus & Coach consist of the development, manufacturing, sales and after-sales service of a wide range of buses, coaches and chassis modules and the purchase and sales of second-hand buses as well. VDL Bus & Coach consists of multiple bus companies that operate cooperatively in the global market. Manufacturing takes place in the Netherlands and Belgium.
VDL Bus & Coach places aspects such as quality, safety, durability, comfort, the environment, low fuel consumption and low maintenance costs in high regard.
Sales of VDL Bus & Coach products take place through a worldwide network consisting of corporate-owned sales offices, importers and agents in more than 30 countries. This makes it possible to offer custom-made transport solutions.
For after-sales service and maintenance, the client can count on rapid, hassle-free assistance from VDL Bus & Coach employees in any of the many service locations.
An extensive distribution network ensures that spare parts and accessories are delivered to the requested destination as quickly as possible.
VDL Bus & Coach is one of the largest bus producers in Europe.
VDL Groep, with its head office in Eindhoven (The Netherlands), is an international industrial company focused on the development, production and sales of semi-finished products, buses & coaches and other finished products and the assembly of cars. Since the founding in 1953 this family-owned company has grown to include 85 operating companies, spread over 19 countries with more than 10,000 employees. The strength of VDL Groep lies in the mutual cooperation between the companies.