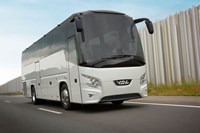 VDL Bus & Coach will introduce no fewer than 3 premieres during IAA 2016. The new VDL Futura FHD2-106 is the latest member of the Futura family. With this 10.6-metre length variant VDL Bus & Coach is targeting the VIP segment. The FHD2-106 at VDL Bus & Coach's stand can accommodate 34+1+1 people and has extremely luxurious, comfortable seats in a face-to-face arrangement.
Of the new Citea LLE length variants introduced in May, the 9.9-metre version in a 27+2+1 configuration will be presented to the public for the first time. This Citea LLE-99 has been specifically designed for sparsely populated areas and for scheduled services with clear peak and off-peak times.
The VDL MidBasic Electric will also be premiered during IAA. The VDL MidBasic Electric is a community bus with an exceptionally innovative, fully electric powertrain.
IAA Nutzfahrzeuge will be held from 22 to 29 September 2016 in Hanover, Germany. The VDL Bus & Coach stand is in Hall 11, stand number C37.
Complete product range
Besides the new VDL Futura FHD2-106, VDL Bus & Coach will also be showing the VDL Futura FDD2-141, a 14.1-metre-long double-decker. This double-decker offers both the discerning holidaymaker and the intercity business traveller a comfortable and fitting transport solution. The use of a newly developed upper-deck floor made of lightweight sandwich material has made it possible to achieve a generous 1.86 m of standing height on the lower deck. A true innovation is the improvement of the driver's upward viewing angle, achieved by sloping the floor of the upper deck upwards at the windscreen. This gives a feeling of having plenty of space and an optimal view. The FDD2-141 on show is fitted with 83+1+1 seating and has space for 1 wheelchair.
VDL Bus & Coach will present the Futura FMD2-135 in the outdoor area. This multifunctional coach, which can also be deployed for intercity transport and on scheduled services, is fitted with 59+1+1 seating.
Also in the outdoor area will be a MidCity and a MidEuro. The MidCity is designed as a line bus with 19+1+1 seating, a maximum of 8 standing places and 1 wheelchair space. The MidEuro has 16+1+1 seating and is fitted with every luxury and comfort to make travelling as pleasant as possible.
Demo rides on VDL Citea Electric and VDL MidBasic Electric
Take a test drive to experience first hand the ever-captivating ride in a purely electric bus. During IAA 2016 test drives can be taken on the VDL Citea Electric and the brand-new VDL MidBasic Electric.
The electric VDL vehicles will be located in the outside area between Halls 7-8 and 14-15, very close to Hall 11.
About VDL Bus & Coach
The core activities of VDL Bus & Coach consist of the development, manufacturing, sales and after-sales service of a wide range of buses, coaches and chassis modules and the purchase and sales of second-hand buses as well. VDL Bus & Coach consists of multiple bus companies that operate cooperatively in the global market. Manufacturing takes place in the Netherlands and Belgium.
VDL Bus & Coach places aspects such as quality, safety, durability, comfort, the environment, low fuel consumption and low maintenance costs in high regard.
Sales of VDL Bus & Coach products take place through a worldwide network consisting of corporate-owned sales offices, importers and agents in more than 30 countries. This makes it possible to offer custom-made transport solutions.
For after-sales service and maintenance, the client can count on rapid, hassle-free assistance from VDL Bus & Coach employees in any of the many service locations.
An extensive distribution network ensures that spare parts and accessories are delivered to the requested destination as quickly as possible.
VDL Bus & Coach is one of the largest bus producers in Europe.
VDL Groep, with its head office in Eindhoven (The Netherlands), is an international industrial company focused on the development, production and sales of semi-finished products, buses & coaches and other finished products and the assembly of cars. Since the founding in 1953 this family-owned company has grown to include 85 operating companies, spread over 19 countries with more than 10,000 employees. The strength of VDL Groep lies in the mutual cooperation between the companies.