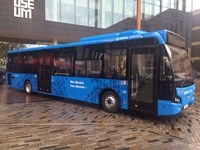 Public transport company Arriva Netherlands has signed a contract with VDL Bus & Coach bv for the delivery of 228 Citeas, to be deployed in the Dutch concessions in Limburg (166 buses) and in Southeast Friesland and the West Frisian Islands (62 buses). For both concessions together the order consists of 151 VDL Citea LLE-120s, 14 VDL Citea SLF-120 Electrics and 4 articulated VDL Citea SLFA-180 Electrics. A further 19 VDL Citea SLF-120s, 28 VDL Citea LLE-99s and 12 VDL Citea LLE-99 Electrics are also to be deployed in Limburg. The Citea LLE-99 is 9.9 metres in length, making it a new length variant of the VDL Citea LLE, and it recently also became available in a fully electric version. The supply agreement was signed on Thursday, 29 September 2016 by Anne Hettinga, chair of Arriva Netherlands' Board of Management, and Theo Toussaint, board member of VDL Groep, in the presence of Johannes Kramer, a member of the Friesland Provincial Executive.
Very proud
Theo Toussaint, board member of VDL Groep, says: "We are very proud to be able to deliver so many buses to Arriva Netherlands once again. An added bonus this time is that the vast majority of the buses are to be built in Friesland. The plant in Roeselare, Belgium, will also make several vehicles. We are very pleased too that Arriva Netherlands has chosen the West Frisian Islands and the city services in Maastricht and Venlo for the highly successful electric variants of the Citea SLF, Citea SLFA and Citea LLE. These quiet, clean buses will contribute to a better living environment and constitute an important step towards improving the sustainability of public transport in the Netherlands. The collaboration with Arriva is to be extended even further, since we will be carrying out the maintenance of the buses in Limburg and the electric Citeas on the West Frisian Islands."
Citea LLE and Citea SLF
The 12-metre-long Citea LLE-120 is distinguished by its extremely low net weight, with major advantages being significantly lower fuel consumption in comparison to conventional buses and lower maintenance costs. The fuel savings not only means lower operating costs but also significant reduction of the CO2 emissions. The low floor construction at the entry and exit doors provides optimal accessibility for wheelchair users and passengers with baby buggies. This accessibility is further enhanced by the lack of any floor height changes between the entry and exit doors. The new, shorter variant, the VDL Citea LLE-99 (9.9 metres in length), has been specifically designed for sparsely populated areas and for scheduled services with clear peak and off-peak times. In areas with lower demand for transport the deployment of smaller buses contributes to a greener image. The Citea SLF (Low Floor), with its completely flat floor, compact dimensions and great manoeuvrability, is the ideal city bus.
Citea Electric
VDL Bus & Coach offers the opportunity to choose from various electric drive systems, battery packs and charging systems so the most ideal and optimal combination can be selected for every deployment area, without affecting accessibility, interior layout or comfort. As a result, passengers are taken to their destination in a low-noise and environmentally friendly manner, but also in a comfortable manner. For the West Frisian Islands and the city services in Maastricht Arriva has opted for 14 VDL Citea SLF-120 Electrics, which are 12 metres in length, and 4 articulated VDL Citea SLFA-180 Electrics, which are 18 metres in length. In Venlo 12 VDL Citea LLE-99 Electrics, which are 9.9 metres in length, will also be deployed. All electric Citeas are fitted with a rapid charging system using a pantograph.
Arriva Netherlands
Arriva Netherlands is part of the Arriva Group, a subsidiary of Deutsche Bahn. Arriva is a leading passenger transport company, operating in 14 European countries. In the Netherlands Arriva employs 5,000 staff in the provinces of Drenthe, Flevoland, Friesland, Gelderland, Groningen, North Brabant, Overijssel and South Holland. In addition to train and bus service, Arriva operates the waterbus in South Holland in partnership with Koninklijke Doeksen and is active in the Dutch touring coach sector under the name of Arriva Touring.
About VDL Bus & Coach
The core activities of VDL Bus & Coach consist of the development, manufacturing, sales and after-sales service of a wide range of buses, coaches and chassis modules and the purchase and sales of second-hand buses as well. VDL Bus & Coach consists of multiple bus companies that operate cooperatively in the global market. Manufacturing takes place in the Netherlands and Belgium.
VDL Bus & Coach places aspects such as quality, safety, durability, comfort, the environment, low fuel consumption and low maintenance costs in high regard.
Sales of VDL Bus & Coach products take place through a worldwide network consisting of corporate-owned sales offices, importers and agents in more than 30 countries. This makes it possible to offer custom-made transport solutions.
For after-sales service and maintenance, the client can count on rapid, hassle-free assistance from VDL Bus & Coach employees in any of the many service locations.
An extensive distribution network ensures that spare parts and accessories are delivered to the requested destination as quickly as possible.
VDL Bus & Coach is one of the largest bus producers in Europe.
VDL Groep, with its head office in Eindhoven (The Netherlands), is an international industrial company focused on the development, production and sales of semi-finished products, buses & coaches and other finished products and the assembly of cars. Since the founding in 1953 this family-owned company has grown to include 85 operating companies, spread over 19 countries with more than 10,000 employees. The strength of VDL Groep lies in the mutual cooperation between the companies.