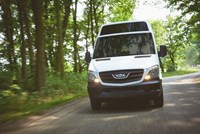 The Dutch passenger transport company Connexxion has placed an order with VDL Bus & Coach for 62 MidCity's Electric and 40 VDL Citea's LLE-120 Euro 6. This is the first major order for this vehicle, which was only recently added to the VDL portfolio. All the vehicles will be used in the 'Noord-Holland Noord' concession in the province of the same name. This concession will become operational on the end of July 2018.
"With the introduction of the MidCity Electric, the smaller buses in 'Noord-Holland Noord' are now also zero emission. This is yet another step in our efforts to make public transport even more sustainable," says Eric van Eijndhoven, Public Transport Director at Connexxion. The goal is to have half of all buses run zero emissions in the Noord-Holland Noord concession area by 2025. This order is a valuable addition in the transition to full zero emission public transport.
Ard Romers, director of VDL Bus & Coach Nederland, had this to say: "We aim to be the specialist in the field of E-Mobility. This smaller vehicle can be used for a broad range of purposes by our customers and is therefore an important addition to our zero-emission package. As a transition partner, VDL will also be responsible for the maintenance and upkeep of the vehicles and infrastructure. So we are very proud of this order, which is for a total of 102 buses."
VDL MidCity Electric
In order to be able to offer custom solutions for any situation that meet the wishes and requirements of the transport operator during the transition to zero-emission public bus transport, VDL Bus & Coach is currently developing the MidCity Electric. This fully electric minibus with a length of 8 metres is not only ideally suited for making city centres emission-free but is also ideal for transport in sparsely populated areas. The bus has a lowered floor that provides easy access for regular passengers and wheelchair users. In addition, the wheel base extension allows great flexibility in the type and number of seats. The MidCity Electric features a 87 kWh battery with an action radius of up to 220 km.
VDL Bus & Coach will introduce this new electric model in the course of 2018.
Transdev
Transdev is active in the Netherlands under the brands Connexxion Openbaar Vervoer, Connexxion Taxi and Witte Kruis. The Transdev Group has locations in 19 countries and is active in passenger transport and mobile care. Internationally, Transdev provides various types of transport: buses, taxis and trains, light rail, ferries and bicycles. The company employs over 83,000 people under the Transdev banner.
About VDL Bus & Coach
The core activities of VDL Bus & Coach consist of the development, manufacturing, sales and after-sales service of a wide range of buses, coaches and chassis modules and the purchase and sales of second-hand buses as well. VDL Bus & Coach consists of multiple bus companies that operate cooperatively in the global market. Manufacturing takes place in the Netherlands and Belgium.
VDL Bus & Coach places aspects such as quality, safety, durability, comfort, the environment, low fuel consumption and low maintenance costs in high regard.
Sales of VDL Bus & Coach products take place through a worldwide network consisting of corporate-owned sales offices, importers and agents in more than 30 countries. This makes it possible to offer custom-made transport solutions.
For after-sales service and maintenance, the client can count on rapid, hassle-free assistance from VDL Bus & Coach employees in any of the many service locations.
An extensive distribution network ensures that spare parts and accessories are delivered to the requested destination as quickly as possible.
VDL Bus & Coach is one of the largest bus producers in Europe.
VDL Groep, with its head office in Eindhoven (The Netherlands), is an international industrial company focused on the development, production and sales of semi-finished products, buses & coaches and other finished products and the assembly of cars. Since the founding in 1953 this family-owned company has grown to include 85 operating companies, spread over 19 countries with more than 10,000 employees. The strength of VDL Groep lies in the mutual cooperation between the companies.