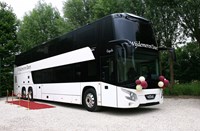 The first VDL Futura FDD2 intended for the Dutch market has been delivered to Wijdemeren Tours. On Sunday, 29 May 2016 Wijdemeren Tours celebrated its 12½th anniversary. This festive occasion was used as the opportunity to hand over the VDL Futura FDD2 officially. "We are not only proud of our 12½th anniversary, but also of the fact that we are able to add the first Futura FDD2 intended for the Dutch market to our fleet. With this new double-decker we can carry our passengers not only safely and reliably, but also in great comfort", said Wim van ter Meij, director of Wijdemeren Tours.
VDL Futura FDD2 also available as Royal Class
The VDL Futura FDD2-141 supplied to Wijdemeren Tours has a 91+1+1 seating configuration and can be converted to a Royal Class version, with a 66+1+1 configuration. A great deal of thought has gone into passenger comfort: for instance, the double-decker has 91 luxurious seats, all of which have a 220-volt socket and USB connection. Three screens are mounted on both the upper and lower decks. With its very roomy interior and luggage compartment, the double-decker provides ample space for passengers and their luggage. The vehicle is also equipped with the latest safety assistance systems.
Maximum efficiency
The VDL Futura FDD2 has a lightweight modular construction, an example of which is the newly developed upper-deck floor made of sandwich material. This construction method gives rise to substantial weight savings and enables coach operators to carry more passengers. VDL combines this lightweight construction with highly economical and efficient DAF powertrains and aerodynamic styling. This makes for considerable fuel savings for the coach operator. More passengers and lower fuel costs mean maximum efficiency for the operator.
Travelling pleasure for passengers and driver
The generous standing heights on the upper and lower decks (the lower deck has a standing height of no less than 186 cm), the light colour scheme and the curved, soft design of the interior provide passengers with the best possible living environment. A real innovation is the driver's enlarged field of view, created by having the upper-deck floor run upwards at an angle near the windscreen. This creates the impression of ample space and makes for an excellent field of view.
Wijdemeren Tours
Wijdemeren Tours' fleet consists of 8 VDL vehicles, 1 MidEuro, 1 Jonckheere, 2 Axials, 2 Synergys and 1 Futura Classic and now the Futura FDD2 can be added to this list. Thanks to this varied fleet, Wijdemeren Tours has a wide range of deployment areas, such as school trips, group tours inside and outside the Netherlands and long-distance transport to winter-sports destinations in winter and to a variety of destinations in Europe in summer.
About VDL Bus & Coach
The core activities of VDL Bus & Coach consist of the development, manufacturing, sales and after-sales service of a wide range of buses, coaches and chassis modules and the purchase and sales of second-hand buses as well. VDL Bus & Coach consists of multiple bus companies that operate cooperatively in the global market. Manufacturing takes place in the Netherlands and Belgium.
VDL Bus & Coach places aspects such as quality, safety, durability, comfort, the environment, low fuel consumption and low maintenance costs in high regard.
Sales of VDL Bus & Coach products take place through a worldwide network consisting of corporate-owned sales offices, importers and agents in more than 30 countries. This makes it possible to offer custom-made transport solutions.
For after-sales service and maintenance, the client can count on rapid, hassle-free assistance from VDL Bus & Coach employees in any of the many service locations.
An extensive distribution network ensures that spare parts and accessories are delivered to the requested destination as quickly as possible.
VDL Bus & Coach is one of the largest bus producers in Europe.
VDL Groep, with its head office in Eindhoven (The Netherlands), is an international industrial company focused on the development, production and sales of semi-finished products, buses & coaches and other finished products and the assembly of cars. Since the founding in 1953 this family-owned company has grown to include 85 operating companies, spread over 19 countries with more than 10,000 employees. The strength of VDL Groep lies in the mutual cooperation between the companies.