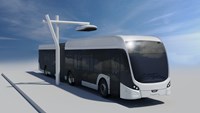 European bus manufacturers Irizar, Solaris, VDL and Volvo have agreed to ensure the interoperability of electric buses with charging infrastructure provided by ABB, Heliox and Siemens. The objective is to ensure an open interface between electric buses and charging infrastructure and to facilitate the introduction of electric bus systems in European cities.
The public transport community is preparing for electric buses in Europe and standardization activities have started via the European body (CEN-CENELEC) and via the international organization for standardization (ISO/IEC). European standards are expected to come in place 2019 and international standards in 2020.
However, many cities are implementing electric bus systems already now. In order to meet the needs of these cities, European bus manufacturers Irizar, Solaris, VDL and Volvo have together with charging system suppliers ABB, Heliox and Siemens agreed to an open, transparent and voluntary approach. Common, preferred interfaces will be opened-up for all market participants and will be used for electric buses with so called opportunity charging (fast charging at end stops) and for overnight charged electric buses. The group is committed to contribute to European standardization activities and to share experiences with CEN/CENELEC and ISO/IEC in order to establish a common European standard for electric bus systems.
The objective is to facilitate the transfer to electric bus systems in cities to ensure reliability and compatibility across bus brands and charging systems. Other bus manufacturers and charging system suppliers are invited to join the cooperation.
For opportunity charging, the system includes automatic contacting by a pantograph, wireless communication, contacting plates and infrastructure equipment that automatically contact vehicles with a pantograph. For overnight charged electric buses, the fast charging standard for cars (CCS) will be used as a base for the plug and for the communication.
About VDL Bus & Coach
The core activities of VDL Bus & Coach consist of the development, manufacturing, sales and after-sales service of a wide range of buses, coaches and chassis modules and the purchase and sales of second-hand buses as well. VDL Bus & Coach consists of multiple bus companies that operate cooperatively in the global market. Manufacturing takes place in the Netherlands and Belgium.
VDL Bus & Coach places aspects such as quality, safety, durability, comfort, the environment, low fuel consumption and low maintenance costs in high regard.
Sales of VDL Bus & Coach products take place through a worldwide network consisting of corporate-owned sales offices, importers and agents in more than 30 countries. This makes it possible to offer custom-made transport solutions.
For after-sales service and maintenance, the client can count on rapid, hassle-free assistance from VDL Bus & Coach employees in any of the many service locations.
An extensive distribution network ensures that spare parts and accessories are delivered to the requested destination as quickly as possible.
VDL Bus & Coach is one of the largest bus producers in Europe.
VDL Groep, with its head office in Eindhoven (The Netherlands), is an international industrial company focused on the development, production and sales of semi-finished products, buses & coaches and other finished products and the assembly of cars. Since the founding in 1953 this family-owned company has grown to include 85 operating companies, spread over 19 countries with more than 10,000 employees. The strength of VDL Groep lies in the mutual cooperation between the companies.