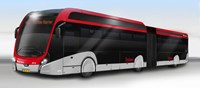 VDL Bus & Coach is going to deliver approximately 40 Citeas SLFA Electric for the Zuidoost-Brabant concession. The tender was issued by the Province of Noord-Brabant with the objective of transitioning to entirely zero emission public transport in the period 2016-2025. This intention is for the City of Eindhoven to go fully electric in 2020.
Passenger transport company Hermes has won the Zuidoost-Brabant concession and is going to work with the province and various partners, including VDL, Tu/e, Fontys, Eindhoven Airport, Stichting Zet and Storeplay, to further give shape to this development concession. In addition to zero emission, the concession includes ambitious targets in the areas of sustainability, innovation and mobility. This makes it one of the most progressive concessions in Europe. For the first phase of the contract, delivery of the approximately 40 Citeas SLFA Electric is planned for December 2016.
Citea SLFA Electric - Evolans
The VDL Citea SLFA Electric is an electric articulated bus with a length of 18.1 metres built in an updated, futuristic BRT (Bus Rapid Transit) design. With the delivery of the Citeas SLFA Electric for the first phase Zuidoost-Brabant has one of the largest zero emission bus fleets in Europe. Under the name 'Evolans' the buses will operate on certain lines so often that the result will be a tram-like system. These high-frequency lines go to key destinations in Eindhoven, such as Eindhoven Airport and the High Tech Campus. At these connections travellers will no longer have to wait long for the next bus because they will operate as a full-fledged 'show up and go' system.
Latest state-of-the-art technology
The replacement of the vehicle fleet in Zuidoost-Brabant will be carried out in stages. Further development will continue throughout the concession period and the results will be implemented in a subsequent stage. Thus each stage will be carried out utilizing the latest state-of-the-art technology and the VDL zero emission buses with accompanying charging infrastructure can also be functionally and economically optimized every step of the way. In terms of sustainability, environmental friendliness and implementation of innovations, this approach to the development of public transport is nothing other than revolutionary.
Additional order Citeas SLE
In addition to the order for approximately 40 Citeas SLFA Electric, Hermes has also ordered 65 Citeas SLE (Volans) from VDL Bus & Coach for the introduction of the first stage. These buses are needed to convert part of the current diesel fleet to Euro 6 versions to achieve a cleaner transition to zero emission.
Transdev
Hermes is part of Connexxion Nederland, which in turn falls under parent company Transdev. Transdev, global player in the field of passenger transport and related activities, is active in twenty countries and has around 83,000 employees. In the Netherlands, Transdev is active with a number of brands, including Connexxion, Veolia Transport Nederland and Witte Kruis. Internationally, Transdev works on smart, sustainable forms of mobility and customer care, as flexibly, efficiently and personally as possible.
About VDL Bus & Coach
The core activities of VDL Bus & Coach consist of the development, manufacturing, sales and after-sales service of a wide range of buses, coaches and chassis modules and the purchase and sales of second-hand buses as well. VDL Bus & Coach consists of multiple bus companies that operate cooperatively in the global market. Manufacturing takes place in the Netherlands and Belgium.
VDL Bus & Coach places aspects such as quality, safety, durability, comfort, the environment, low fuel consumption and low maintenance costs in high regard.
Sales of VDL Bus & Coach products take place through a worldwide network consisting of corporate-owned sales offices, importers and agents in more than 30 countries. This makes it possible to offer custom-made transport solutions.
For after-sales service and maintenance, the client can count on rapid, hassle-free assistance from VDL Bus & Coach employees in any of the many service locations.
An extensive distribution network ensures that spare parts and accessories are delivered to the requested destination as quickly as possible.
VDL Bus & Coach is one of the largest bus producers in Europe.
VDL Groep, with its head office in Eindhoven (The Netherlands), is an international industrial company focused on the development, production and sales of semi-finished products, buses & coaches and other finished products and the assembly of cars. Since the founding in 1953 this family-owned company has grown to include 85 operating companies, spread over 19 countries with more than 10,000 employees. The strength of VDL Groep lies in the mutual cooperation between the companies.