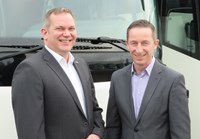 As from 1 February 2016, in his position as General Manager, Boris Höltermann will be made responsible for the general management of VDL Bus & Coach Deutschland. On that same day, Marcus Schmidt will be appointed as Operations Manager. In this capacity, he will be a new addition to the overall management. Boris Höltermann and Marcus Schmidt are the successors to Silke Tödter, who has decided to continue her career outside VDL.
Silke Tödter
Silke entered service with what was then Bova, at the end of the nineteen eighties. Having occupied various positions within Bova, she was made Director of Kleyn-Bova, a joint venture between Bova and Kleyn Trucks in 1998, where she took on responsibility for the purchase and sale of second-hand buses and coaches. Her work formed the basis for the successful VDL Bus Center. In April 2010 she was appointed General Manager at VDL Bus & Coach Deutschland. In addition to occupying this position, until March 2012, she also retained responsibility for the sale branches of VDL Bus Center.
With the departure of Silke Tödter, VDL must bid farewell to a bus and coach woman through and through who over the years has used her enthusiasm and expertise to manage various teams, and who succeeded in placing the VDL Bus Center on the international map. In Germany, she delivered a considerable boost to the sales of both new coaches and public transport buses.
Boris Höltermann en Marcus Schmidt
Over the past few years, Boris Höltermann has been responsible for expanding the position of VDL in Germany's public transport market. With his appointment as General Manager of VDL Bus & Coach Deutschland, he will also be responsible for the sale of coaches and mini and midi buses, and will take on general management of VDL Bus & Coach Deutschland. Boris Höltermann will be assisted in his new position by Marcus Schmidt.
Marcus Schmidt has been employed as a sales specialist at VDL Bus & Coach Deutschland since March 2015. As Operations Manager, he will primarily be responsible for After Sales and Parts. VDL Bus & Coach is convinced that this new management team will succeed in further extending the successful position of VDL Bus & Coach Deutschland.
About VDL Bus & Coach
The core activities of VDL Bus & Coach consist of the development, manufacturing, sales and after-sales service of a wide range of buses, coaches and chassis modules and the purchase and sales of second-hand buses as well. VDL Bus & Coach consists of multiple bus companies that operate cooperatively in the global market. Manufacturing takes place in the Netherlands and Belgium.
VDL Bus & Coach places aspects such as quality, safety, durability, comfort, the environment, low fuel consumption and low maintenance costs in high regard.
Sales of VDL Bus & Coach products take place through a worldwide network consisting of corporate-owned sales offices, importers and agents in more than 30 countries. This makes it possible to offer custom-made transport solutions.
For after-sales service and maintenance, the client can count on rapid, hassle-free assistance from VDL Bus & Coach employees in any of the many service locations.
An extensive distribution network ensures that spare parts and accessories are delivered to the requested destination as quickly as possible.
VDL Bus & Coach is one of the largest bus producers in Europe.
VDL Groep, with its head office in Eindhoven (The Netherlands), is an international industrial company focused on the development, production and sales of semi-finished products, buses & coaches and other finished products and the assembly of cars. Since the founding in 1953 this family-owned company has grown to include 85 operating companies, spread over 19 countries with more than 10,000 employees. The strength of VDL Groep lies in the mutual cooperation between the companies.