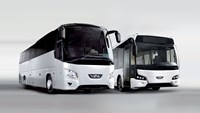 EVW Holding SRL has been appointed as the official distributor for VDL Bus & Coach products in Romania. EVW is DAF importer in Romania for more than twenty years. EVW Holding SRL will be responsible for sales of new VDL Bus & Coach products, used busses and all VDL Bus & Coach after sales activities in the Romanian market.
"EVW has a proven track record in establishing a premium brand in the Romanian market over a long period of time. Both companies are family owned, are financially very solid and share a long term view on the business and customer relations." said Marcel Jacobs, Sales Director of VDL Bus & Coach. "Through the partnership with EVW our customers can rely on modern and high-quality workshops, within their companies reach."
Service and Parts
EVW Holding owns branches in 9 big cities in Romania: Cluj-Napoca, Arad, Bacău, Brașov, Bucharest, Constanța, Craiova, Iași and Gilău, Cluj county– where the company's headquarters is located. All of the business divisions mentioned are represented in each of the 9 branches, forming a matrix organisation and thus allowing the company to cover the entire Romanian territory. Paul Muresan, Managing Director of EVW Holding SRL said: "Taking VDL Bus & Coach high class products into the portfolio, EVW once again expands its range. For over 2 decades EVW has provided top notch services and products to its customers within the Romanian market."
EVW Holding SRL
EVW Holding has been a business formed and focused around trucks for over 22 years. EVW Holding is a company which sells complete ranges of commercial vehicles for road freight transport, from lightweight vehicles of 3.5 tonnes to heavyweight ones, over 16 tonnes and offers a complete range of aftersales and tire services. The brands sold by EVW are testimony to the quality of its vehicles: DAF, Isuzu and Tatra, and now VDL. The various types in the company portfolio serve a wide range of transport and transport-related applications: international hauling, distribution, construction, public utility services, agricultural transports, as well as specialised services in various fields. By adding VDL Bus & Coach into their portfolio the organisation will also provide a wide range of buses, coaches and chassis modules and sales of second-hand buses and coaches.
About VDL Bus & Coach
VDL Groep, with its head office in Eindhoven (The Netherlands), is an international industrial company focused on the development, production and sales of semi-finished products, buses & coaches and other finished products and the assembly of cars. Since the founding in 1953 this family-owned company has grown to include 88 operating companies, spread over 19 countries with more than 10,400 employees. The strength of VDL Groep lies in the mutual cooperation between the companies.
In the subcontracting division, VDL specializes in metalworking, mechatronic systems and system supply, plastics processing and surface treatment. The car assembly division includes the production of passenger cars for third parties. The bus & coach division includes chassis & chassis modules, coaches, public transport buses, mini & midi buses, special projects and second-hand buses. The finished products division comprises suspension systems for the automotive industry, heating, cooling and air-technical systems, production automation systems, systems for the oil, gas and petrochemical industry, systems for the agricultural sector, sunbeds, roof boxes, container handling equipment, waste handling vehicles, cigar-making and packaging machines, components for bulk handling and dust extraction installations and systems for explosion and fire protection.